Nodes bearings have INA sealed shell needle bearings in stock. As INA bearings distributor, we have a wide rage of INA bearings and handsome price. INA sealed shell needle bearings are provided with lip seals which under normal operating conditions protect the bearings against contamination and prevent leakage of grease. They are generally supplied grease filled. The lubricant is a high quality lithium base grease which is suitable for a temperature range of -25 to +250°F (-30 to +120°C). Due to large grease reservoirs in the bearings, long relubrication intervals can be scheduled.
Compared with INA bearings with separate seals, INA sealed shell needle bearings offer lower initial cost, as well as lower storage and assembly costs since only one part is involved instead of two or three. This means simplified maintenance and replacement. It may also permit less costly housings since no counterbore is needed to hold a separate seal. Another advantage is that the seal is shrouded by the end of the shell to protect it from damage.
INA sealed shell needle bearings are supplied at the discretion of INA with either polyester elastomer or nitrile rubber seals depending upon availability.
INA sealed bearings are also available on special order with the seal lip facing inward to better retain the lubricant, suffix F or FF.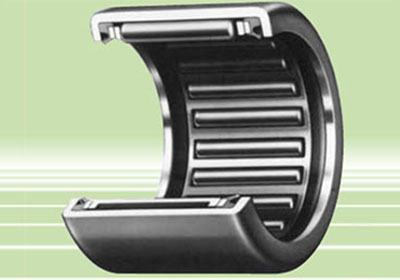 INA sealed shell needle bearings inch series
related articles
Related numbers
Related products