The rings of the hybrid bearings are made from rolling bearing steel and the rolling elements are made from ceramic.
Nodes supplies FAG hybrid bearings, including hybrid ball bearings, and hybrid cylindrical roller bearings. The hybrid bearings are identified by the prefix HC.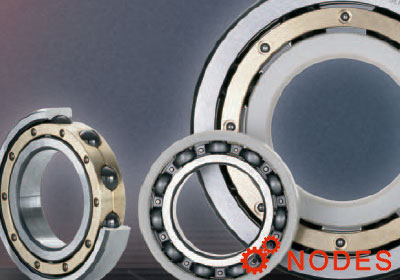 The rolling elements are extremely resistant to wear and perform the function of current insulation. Hybrid bearings have advantages in comparison with ceramiccoated bearings:
Hybrid bearings offer very high resistance to current passage. Their direct current voltage resistance, even at high temperatures, is in the G range. A typical value for capacitance is 40 pF and is thus lower by a factor of 100 than bearings with ceramic coating.
Hybrid bearings allow higher speeds at lower friction and thus lower temperatures in operation.
Hybrid bearings have better emergency running characteristics than standard bearings.
In comparison with steel ball bearings, FAG hybrid ball bearings have:
identical basic dynamic load ratings Cr
30% lower basic static load ratings C0r
20% higher limiting speeds nG.
In addition, hybrid bearings offer a longer grease operating life than standard bearings with lubrication-for-life. For smaller rolling bearings, the hybrid designs are more economical than ceramic-coated bearings.
How to order a FAG hybrid bearing
e.g., Deep groove ball bearing with ceramic balls, Solid brass cage, Increased accuracy P6, Internal clearance C3.
Ordering desination: HC6214-M-P6-C3
e.g., Cylindrical roller bearing with ceramic rollers, Tapered bore, Solid brass cage, Increased accuracy SP.
Ordering desination: HCN1020-K-M1-SP
Related products