FAG high cylindrical roller bearings of this design are double row precision bearings for machine tools. They allow radially rigid, high precision bearing arrangements and are principally used to give radial support for main spindles.
The bearings comprise solid outer rings without ribs, solid inner rings with three ribs and cylindrical roller and cage assemblies with solid brass cages. For optimum setting of the radial internal clearance, the inner ring has a tapered bore with a bore taper 1:12. The cylindrical roller bearings are separable and are therefore easier to fit and dismantle. Both bearing rings can be given a tight fit by this process.
FAG high cylindrical roller bearings NN30..-AS-K-M-SP are non-locating bearings and can support radial forces only. Axial forces are normally supported by double direction axial angular contact ball bearings.
The outer and inner ring can be axially displaced relative to each other from the central position by the values "s" stated in the dimension tables.
The FAG bearings are supplied without seals. They can be lubricated from the end faces as well as through a lubrication groove and lubrication holes in the outer ring.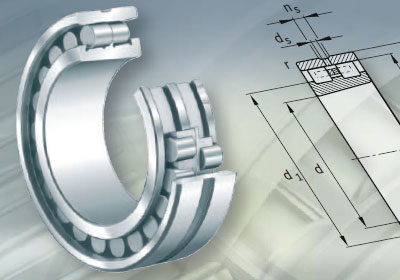 Related products