Lubrication and maintenance are important for the reliable operation and long operating life of FAG and INA rolling bearings.
Functions of the lubricant
The lubricant should:
form a lubricant film on the contact surfaces that is sufficiently capable of supporting loads and thus preventing wear and premature fatigue
dissipate heat in the case of oil lubrication
give additional sealing of the bearing, in the case of grease lubrication, against the entry of both solid and fluid contaminants
dampen running noise
give protection against corrosion.
Selection of the type of lubrication
It should be determined as early as possible in the design process whether FAG or INA bearings should be lubricated using grease or oil.
The following factors are decisive in determining the type of lubrication and quantity of lubricant:
the operating conditions
the type and size of the bearing
the adjacent construction
the lubricant feed.
Grease Lubrication
In the case of grease lubrication, the following criteria must be considered:
very little design work required
the sealing action
the reservoir effect
long operating life with little maintenance work (lifetime lubrication possible in certain circumstances)
if relubrication is required, it may be necessary to provide collection areas for old grease and feed ducts
no heat dissipation by the lubricant
no rinsing out of wear debris and other particles.
Oil Lubrication
In the case of oil lubrication, the following criteria must be considered:
good lubricant distribution and supply to contact areas
dissipation of heat possible from the bearing (significant principally at high speeds and/or loads)
rinsing out of wear debris
very low friction losses with minimal quantity lubrication
more work required on feed and sealing.
Design of lubricant feeds
The feed lines and lubrication holes in the housings and shafts.
should lead directly to the lubrication hole in the FAG rolling bearing
should be as short as possible.
A separate feed must be provided for each FAG or INA bearing.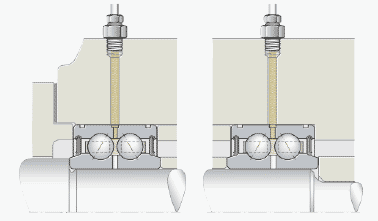 ---