Schaeffler X-life rolling bearings of the brands INA and FAG are products with a particularly high performance density, which are identified by the premium brand XL. Their enhanced quality and performance are not, however, a special additional technical feature, which is available as an optional addition to a standard bearing design, but are fundamentally the Schaeffler standard for these products.
With its extensive range of X-life bearings, Schaeffler is a leader in the premium products segment over comparable competitors.
The high performance standard of Schaeffler rolling bearings is achieved through the systematic use of state-of-the-art production techniques and extensive changes to the internal construction of the bearing.
These design and production engineering measures lead to better and more uniform surfaces and contact zones, resulting in a considerable improvement in load distribution within the bearing and a significant reduction in frictional torque. This in turn leads to higher basic dynamic load ratings compared to the previous standard and thus to a longer bearing operating life.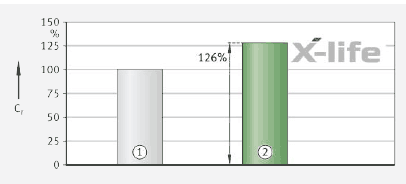 Cylindrical roller bearing with cage: comparison of basic
dynamic load rating Cr with bearings without X-life quality
Cr = radial basic dynamic load rating
(1) Bearing without X-life quality
(2) X-life cylindrical roller bearing
If a current standard bearing is substituted for an X-life bearing, this will give the designer a completely new level of design.
First of all, he will benefit from the longer bearing rating life and the extension of the maintenance intervals. This in turn improves the "Total Cost of Ownership" and the reliability of the specific machine or equipment.
However, he can also use the higher basic load rating to place higher loads on the bearings, while achieving the same rating life.
If he keeps to the old load and rating life, he can use a smaller bearing in place of the previous size and thus make the overall design more compact and lower in mass.
Other arguments in favour of using X-life bearings are their lower friction and lower noise levels, properties that are of central importance for many applications.
Extensive customer benefits of X-life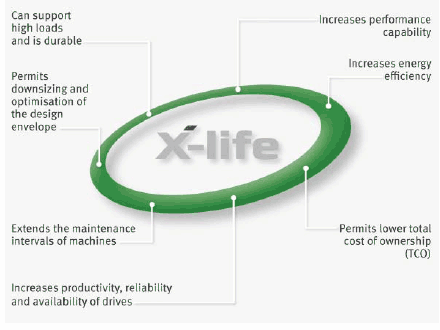 ---