FAG cylindrical roller bearings with cage are units comprising solid inner and outer rings together with cylindrical roller and cage assemblies. The outer rings have rigid ribs on both sides or no ribs, the inner rings have one or two rigid ribs or are designed without ribs. The cage prevents the cylindrical rollers from coming into contact with each other during rolling.
FAG cylindrical roller bearings are very rigid, can support high radial loads and, due to the cage, are suitable for higher speeds than the full complement designs. Bearings with the suffix E have a higher capacity roller set and are thus designed for very high load carrying capacity.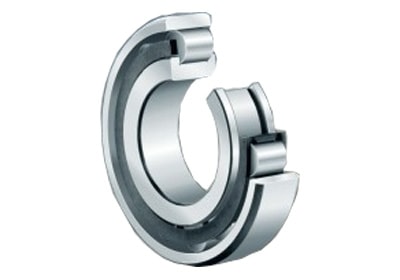 The FAG bearings are separable and are therefore easier to fit and dismantle. Both bearing rings can be given a tight fit by this process.
FAG single row cylindrical roller bearings with cage are available as non-locating, semi-locating and locating bearings.
Numerous sizes are supplied in the X-life grade. These bearings are indicated in the dimension tables.
Cylindrical roller bearings NU and N are non-locating bearings and can support radial forces only. In series NU, the outer ring has two ribs, while the inner ring has no ribs. Bearings N have two ribs on the inner ring and an outer ring without ribs.
Cylindrical roller bearings NJ are semi-locating bearings. Semi-locating bearings can support not only high radial forces but also axial forces in one direction and can therefore guide shafts axially in one direction. They act as non-locating bearings in the opposite direction. The bearings have two ribs on the outer ring and one rib on the inner ring.
related articles
Related numbers
Related products