Nodes bearings, FAG tapered roller bearings wholesaler, have a wide range of FAG bearings in stock.
FAG tapered roller bearings comprise solid inner and outer rings with tapered raceways and tapered rollers with cages made from pressed sheet steel. The bearings are not self-retaining. As a result, the inner ring with the rollers and the cage can be fitted separately from the outer ring.
FAG tapered roller bearings can support axial forces in one direction and high radial forces. They must normally be axially adjusted against a second bearing fitted in a mirror image arrangement. This bearing combination is fitted in an O or X arrangement.
The axial load carrying capacity is dependent on the contact angle; i.e. the larger the angle, the higher the axial load to which the bearing can be subjected. The bearing-specific value e in the dimension tables indicates the contact angle and therefore the load carrying capacity. Bearings of series 313, 323..-B, T5ED and T7FC have a very high axial load carrying capacity due to their particularly large contact angle.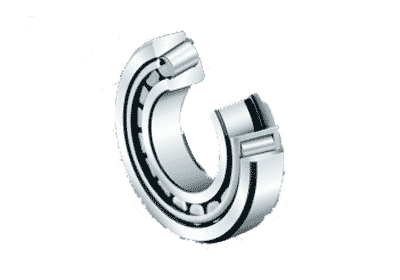 FAG tapered roller bearings 313..-N11CA are matched in pairs in an X arrangement and can therefore support high axial forces in both directions and moment loads.
The axial internal clearance of the bearing pair is defined by a ring between the two outer rings and is indicated in the suffix.
When ordering matched bearings, please state Nodes bearings the number of bearings, not the number of bearing pairs.
FAG tapered roller bearings are available in metric and inch sizes. FAG bearings with a K in the designation are inch sizes. For new designs, bearings in metric sizes should be used in preference.
Tapered roller bearings are not sealed and not greased. They can be lubricated using oil or grease.
FAG Tapered roller bearings have pressed cages made from sheet steel. Since these project laterally to a certain extent, the mounting dimensions in the dimension tables and the cage projection, must be observed.must be observed.
related articles
Related numbers
Related products