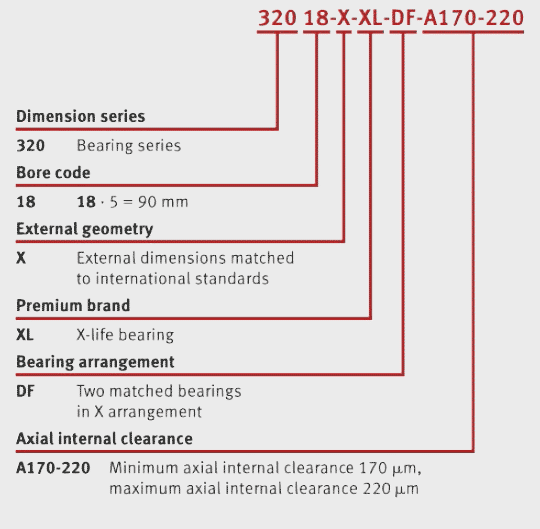 In order to simplify the ordering process, the ordering designation for matched pairs of FAG tapered roller bearings has been changed (more information refer to FAG bearing designation):
The first module letter D = 2 (Duplex) expresses the number of bearings.
The arrangement of the bearings is represented by the second module letter:
– B = O arrangement – Back to Back
– F = X arrangement – Face to Face
– T = tandem arrangement.
Where necessary (special design), a third module letter is added as a consecutive counter for description of a variant.
Example: A, B, … = different set width, variant of intermediate ring design.
The geometrical axial internal clearance is written in open form in the designation. As an example, "A170-220" indicates that the geometrical axial internal clearance of the bearing pair in the unmounted condition (delivered condition) is between 170 m and 220 m.
If the designation instead contains "VA20-40", for example, this mean that the bearing pair is axially preloaded and the negative axial clearance of the bearing pair in the unmounted condition is between 20 m and 40 m.
When ordering, the number of bearing pairs must be stated. In the case of tapered roller bearing pairs with the suffix N11, the ordering process will remain as before until this is superseded by new suffixes (DF, DB, DT). In this case, the number of single bearings must continue to be stated.
---
oterh articles about FAG roller bearings