Nodes bearings supplies a wide range of TIMKEN thrust bearings that suit high-speed applications and light loads for high precision applications.
TIMKEN TVL-Angular Contact Thrust Ball Bearing
TIMKEN type TVL thrust ball bearings provide exceptionally low friction, cool running and quiet operation at high speeds and also are less sensitive to misalignment. We designed TVLs for thrust loading, but it will also accommodate some radial loading.
Size range: 228.6 mm to 1371.6 mm (9 in. to 54 in.)
Design Attributes:
Precision ground and lapped steel balls are enclosed by hardened and ground steel races and separated by a bronze cage.
Other materials may be specified as required to suit specific application needs.
Applications:
Fluid control valves
Machine tool tables and spindles
Oil and gas rotary tables
TIMKEN DTVL-Two Direction Angular Contact Thrust Ball Bearing
TIMKEN type DTVL thrust ball bearings have an upper and lower complement of angular contact balls and three race elements. Timken designed this type with the capability to carry a thrust load in one direction, comparable to the TVL type, and a lighter thrust load in the opposite direction.
Size range: 508 mm to 1374.775 mm (20 in. to 54.125 in.)
Applications: Oil and gas rotary tables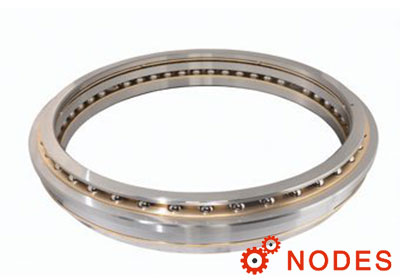 Related products