Recommended shaft tolerances for radial FAG self aligning ball bearings with cylindrical bore. see table in "Shaft and housing tolerances"
The dimension tables give the maximum dimension of the radius ra and the diameters of the abutment shoulders Da and da.
Bearings with a tapered inner ring bore are:
located either directly on tapered shaft seats or
located on a cylindrical shaft seat using an adapter sleeve, locknut and tab washer.
If high axial forces are present, a support ring can be used. For fitting, attention must be paid to the support ring dimensions given in the dimension tables.
Ball protection
In some bearings with a brass cage, the balls project to a certain extent at the sides. The projection C1 must be taken into consideration when designing the adjacent construction.
Location of series 122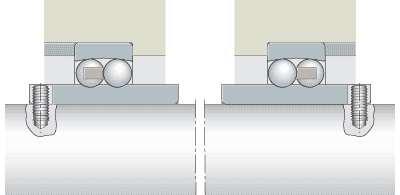 These FAG bearings are axially located by means of thread studs that engage in the slot in the inner ring. The studs also prevent the inner rings creeping on the shaft.
If a shaft is to be supported by two bearings, the locating slots must be arranged on the sides of the bearing facing towards or away from each other
---
related articles
oterh articles about FAG ball bearings