Nodes supplies FAG barrel roller bearings, including:
Cylindrical bore: 202, 203
Tapered bore: 202..-K, 203..-K
FAG Barrel roller bearings are single row, self-aligning roller bearings. They comprise solid outer rings with a concave raceway, solid inner rings with two ribs and a cylindrical or tapered bore as well as barrel rollers with cages. The bearings cannot be dismantled.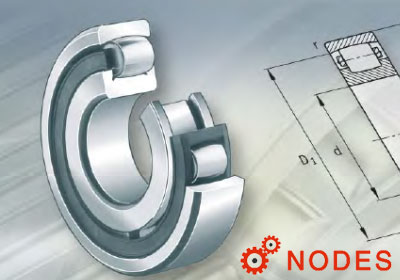 FAG barrel roller bearings are particularly suitable where high radial shock type loads occur and misalignments must be compensated, see Compensation of angular misalignments. They have only a low axial load carrying capacity.
FAG barrel roller bearings with a tapered bore have a bore taper 1:12 and the suffix K.
These FAG bearings are also available with an adapter sleeve for locating purposes. The adapter sleeves are included in the dimension tables and must be specified in addition when ordering.
Under normal operating conditions and with a rotating inner ring, FAG barrel roller bearings can swivel approx. 4° about their central position. As a result, they permit skewing between the inner and outer ring and can thus compensate misalignments, shaft deflections and housing deformations.
If the outer ring rotates or the inner ring undergoes tumbling motion, the angular adjustment facility is smaller. In this case, please contact our engineer.
The standard cages for FAG barrel roller bearings are shown in the table Cage and bore code. Barrel roller bearings with solid brass cages have the suffix MB. The cages are guided on the inner ring. Solid window cages made from glass fibre reinforced polyamide are indicated by the suffix TVP.
Series
Solid window cage made from polyamide
Bore code
Solid brass cage
202
up to 16
from 17
203
up to 12
from 13
The suffixes of FAG barrel roller bearings, more information please refer to FAG bearing suffix.
Suffix
Description
Design
C3
Radial internal clearance larger than normal
Standard for tapered bore
K
Tapered bore
Standard
MB
Solid brass cage
TVP
Solid window cage made from glass fibre reinforced polyamide
Related products