FAG spherical roller bearings are double row, self-retaining units comprising solid outer rings with a concave raceway, solid inner rings and barrel rollers with cages. The inner rings have cylindrical or tapered bores. The symmetrical barrel rollers orient themselves freely on the concave outer ring raceway. As a result, shaft flexing and misalignment of the bearing seats are compensated
Many sizes of FAG spherical roller bearings are of an X-life design. These FAG bearings have improved kinematics and optimised surfaces, are made from higher performance materials and do not have a rigid central rib. As a result, the basic dynamic load rating and, under identical operating conditions, the basic rating life of the bearings is significantly improved. In certain applications, this means that a smaller bearing arrangement can be designed.
X-life spherical roller bearings have the suffix E1 and are indicated in the dimension tables.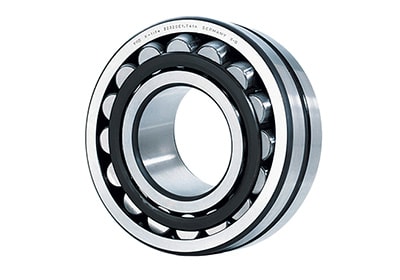 related articles
Related numbers
Related products