With many innovations and refinements over the decades, noted in the timeline below, SKF spherical roller bearings have continuously raised the performance bar. Improvements in steel composition, heat treatment, geometries, surface finishes and lubrication are the ingredients of an upgraded SKF Explorer spherical roller bearing. This enables up to twice the service life compared to the previous SKF Explorer performance.
As they have since the beginning, SKF Explorer spherical roller bearings continue to set the industry standard. And today we offer the widest range of spherical roller bearings in the industry, both open and sealed.
Whatever your application, you will appreciate that every SKF spherical roller bearing has been optimized to deliver superior field performance and a healthier bottom line.
Today, all spherical roller bearings are in the SKF Explorer performance class and have been upgraded, featuring a combination of high-quality steel and an improved heat treatment process. Upgraded SKF Explorer spherical roller bearings are marked with "WR" on the package and the bearing outer ring.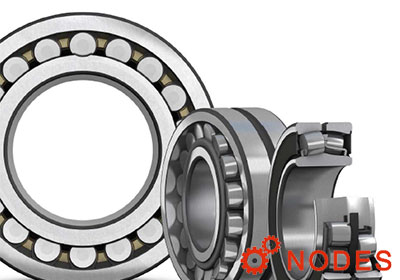 SKF Explorer spherical roller bearings
Optimized for superior field performance
SKF explorer spherical roller bearing life tests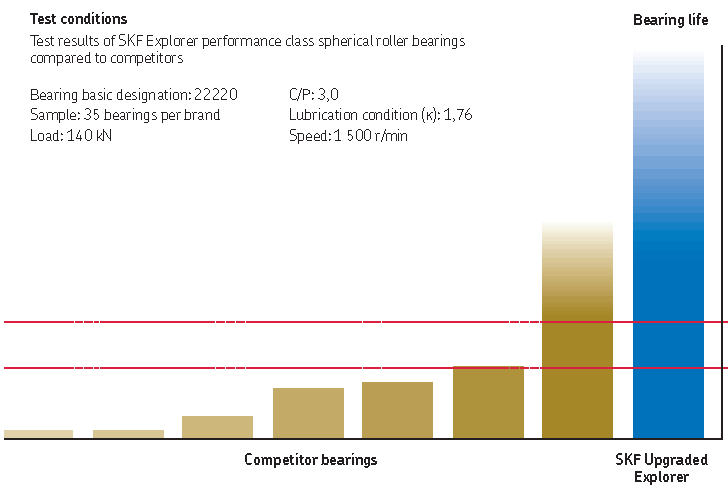 Bearing life tests conducted at SKF Engineering & Research Centre confirm the outstanding performance of upgraded SKF Explorer performance class spherical roller bearings when compared to competitor bearings.
Unique features of upgraded open and sealed SKF spherical roller bearings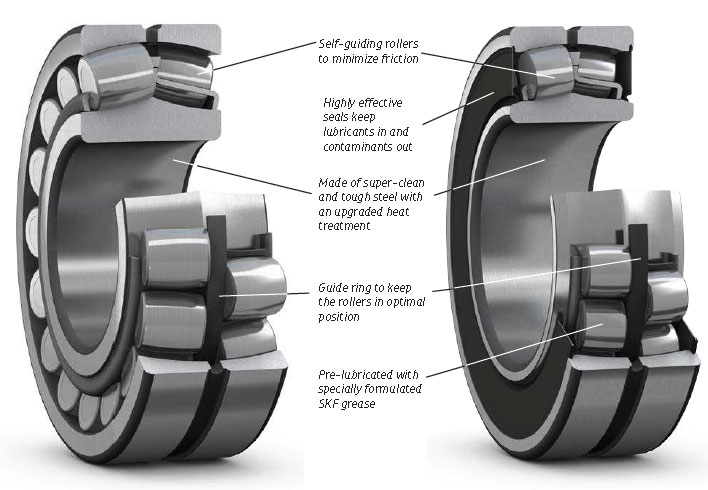 Tests conducted in SKF laboratories show that upgraded SKF Explorer spherical roller bearings can last up to twice as long as previous generation bearings when operating under contaminated or poor lubrication conditions.
SKF sealed explorer bearings for superior protection against contaminants
Sealed SKF Explorer spherical roller bearings can significantly increase bearing service life in contaminated environments. These bearings are pre-lubricated with a specially formulated grease and sealed with highly effective contact seals. The seals protect the bearing and lubricant from contaminants that might otherwise cause premature bearing failure.
In many applications, these SKF explorer bearings can be considered lubricated for the life of the bearing. By eliminating or extending relubrication intervals, these bearings can significantly reduce the cost to purchase, apply and dispose of grease. Reduced maintenance costs will, in many cases, substantially reduce the total cost of ownership of an application.
Due to the cleanliness of a sealed SKF spherical roller bearing, changing from an open to a sealed design makes it possible to increase bearing rating life by up to four times in the contaminated environments of typical heavy industrial applications.
SKF explorer bearings for specific applications
SKF spherical roller bearings for vibratory applications
SKF offers spherical roller bearings specifically designed to withstand high acceleration levels. The bearings are equipped with a special, hardened cage and a hardened guide ring, which enable them to withstand higher acceleration forces while operating at cooler temperatures. These bearings have been used with great success in vibratory applications such as vibrating screens and road rollers.
Solid Oil bearings
Solid Oil bearings are designed for relubrication-free operation and are ideal for industries such as marine, oil and gas and port cranes where the bearings are often weather exposed and operate in wet environments. These bearings are lubricated with oil encapsulated in a polymer. During operation, the oil is continuously released to lubricate the bearing. Solid Oil bearings may operate in temperatures of up to 85 °C (185 °F) and at moderate speeds.
Related products