SKF Explorer bearings accommodate higher load levels and provide extended service life. Optimized internal geometry reduces friction, wear and heat generation, allowing heavier loads to be accommodated. Advanced surface finish reduces friction and enhances lubricating conditions.
Benefits of using SKF Explorer bearings include:
significantly extended service life
increased uptime and productivity
extended lubricant life
reduced sensitivity to misalignment
reduced noise and vibration
enabling downsized applications
SKF Explorer bearings are shown coloured blue in the product tables. For bearing solutions where you want to downsize, reduce vibrations, reduce friction or increase power density in your applications, select SKF Explorer.
SKF explorer bearing catalog
SKF explorer performance class bearings
Improves endurance and service life
SKF Explorer is a performance class of rolling element bearings that offers a substantial improvement in endurance and service life. SKF Explorer performance class bearings are available in a variety of types:
Deep groove ball bearings
Cylindrical roller bearings
Angular contact ball bearings
Spherical roller bearings
CARB toroidal roller bearings
Tapered roller bearings
SKF Explorer performance class upgrade
All SKF spherical roller bearings and CARB bearings have been upgraded to the new SKF Explorer performance class specifications, featuring a combination of high-quality steel and an improved heat treatment process. The result: a superior balance between hardness and toughness, enabling up to twice the service life as the original SKF Explorer. Benefits include:
Increased uptime
Improved reliability
Resistance to contamination
Higher productivity levels
Reduced noise and vibration levels
Excellent wear resistance
Understanding and addressing the factors that cause bearing failure is critical to designing bearings that can perform as expected under field conditions. For decades, SKF has worked with design engineers to improve machine reliability, leading the way with robust bearing designs that have virtually eliminated bearing failure due to sub-surface fatigue.
In fact, SKF experience has confirmed that today's high quality bearings rarely fail because of sub-surface fatigue damage. If a bearing fails as a result of surface damage, it is generally caused by factors such as contamination, inadequate lubrication, surface distress and wear. Beside these factors, moisture, corrosion, electric current erosion and fracture can occur.
Drawing on the substantial progress made in the surface life modelling area, SKF has now successfully integrated this knowledge into a new rolling bearing life calculation, called the SKF Generalized Bearing Life Model. This new model builds on the strengths of the current bearing life model – also developed by SKF over 30 years ago – by successfully separating surface failure modes from sub-surface failure modes.
It also factors in additional parameters, including lubrication, contamination and surface distress. By accounting for more failure modes, the model has the potential to more accurately predict bearing behaviour in real-world operating conditions.
SKF is also using the application knowledge that went into creating the new model to develop more advanced calculation tools that will enable our customers to make more informed bearing choices.
Another benefit of the new model is the flexible "framework" that can easily integrate new tribology – and material science knowledge. As bearing science evolves, so will the model.
From the very start, SKF has taken the lead in the development of self-aligning bearings. We introduced spherical roller bearings in 1919 and have been consistently improving them. Along the way, we also invented the spherical roller thrust bearings and CARB toroidal roller bearings.
In 1999, we introduced the SKF Explorer performance class with improvements in bearing geometry, materials and manufacturing methods. SKF Explorer bearings gave design and maintenance engineers a whole new set of options. Machinery could be downsized with no loss of capacity, or run faster, longer, cooler or quieter.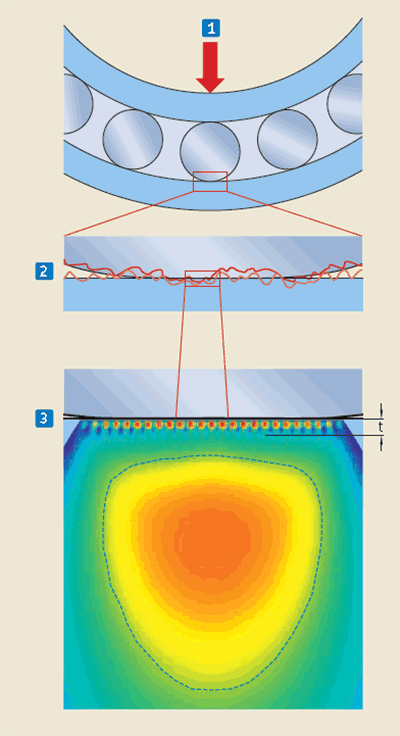 1, When a bearing is subjected to load, the material in the rolling contact is stressed.
2, The surface of the raceway in a rolling bearing has a certain waviness and roughness.
3, The surface properties influence the stress concentration at the surface, to a depth (t). The SKF Generalized Bearing Life Model takes both surface and sub-surface failure modes into consideration.
SKF explorer features and benefits
Unique raceway-shoulder transition
The ground transition between the raceway and shoulder reduces contact and edge stresses, which makes the bearing less sensitive to axial overloading.
Superior cage designs
Through a process of continuous improvement, all SKF Explorer angular contact ball bearing cages have been re-engineered to promote the formation of a lubricant film and reduce heat, vibration and noise levels generated by the bearing. The polyamide and PEEK* cages were also upgraded to better withstand the inertial forces caused by frequent high-speed starts and stops.
High quality steel and unique heat treatment
Manufactured from extremely clean steel and using a unique heat treatment process, SKF Explorer bearings offer maximum hardness for optimum wear-resistance and dimensional stability up to +150 °C (+300 °F).
This keeps the predefined clearance or preload constant over time to significantly extend bearing service life.
Improved running accuracy
The high-quality balls, combined with advanced manufacturing techniques used on SKF Explorer ball bearings, improves running accuracy. These improvements also reduce heat, vibration and noise levels generated by the bearing.
SKF Explorer performance class bearings last longer and virtually eliminate the risk of premature failure, as verified by the SKF Engineering and Research Centre located in the Netherlands, and has been acknowledged by independent quality audit bodies such as Det Norske Veritas and Germanischer Lloyd.
Endurance test results for SKF explorer ball bearings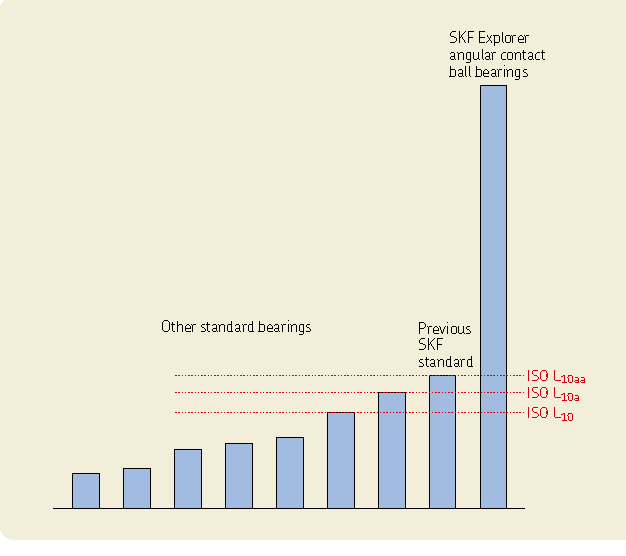 SKF Explorer design
Engineered for optimum performance
Our expertise in bearing design, tribology, metallurgy, lubrication and manufacturing have come together to create SKF Explorer class bearings. A new standard of excellence in design, performance and precision manufacturing – one that is still unmatched in the marketplace.
SKF Explorer bearings are a result of extremely high steel quality. Optimized design. Manufacturing process improvements. Tighter tolerances and less spread.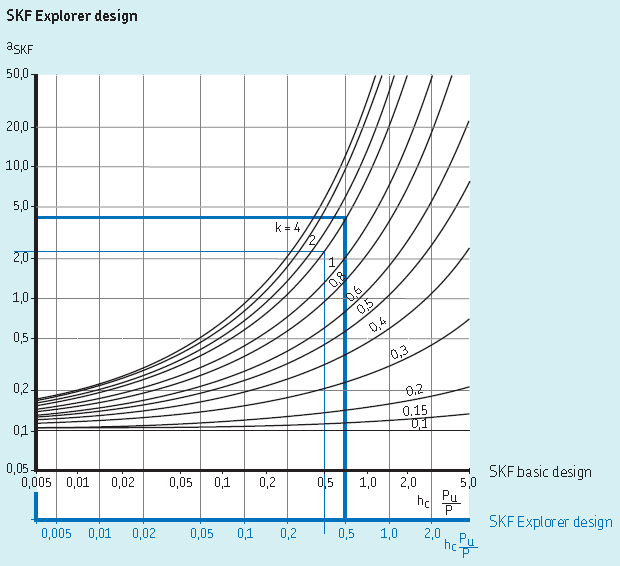 * The factor aSKF represents the relationship between the fatigue load limit ratio (Pu/P), the lubrication condition (viscosity ratio κ) and the contamination level in the bearing (ηc).
SKF Explorer provides:
Longer service life
+15% higher load carrying capacity
Improved aSKF factor*
Possible downsizing
Possible stiffness increase
A simpliied designation system
All items in the catalogue assortment will have a designation according to ISO or ABMA standard with a minimum of sufixes.
Items according to SKF Explorer performance will be indicated in blue in the new Rolling bearing catalogue. The bearings and the package labels will be marked SKF Explorer.
Run your machine smoother for longer
If you want to get more out of a machine or piece of equipment, it helps if the bearings are made by SKF.
---