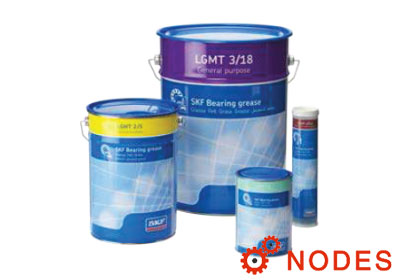 SKF bearing greases are for a wide range of applications. Nodes bearings supply high quality SKF bearing grease with the following products:
Greases for a wide range of applications: LGMT2, LGMT3, LGEP2, LGWA2, LGGB2, LGFP2
Greases for high load applications: LGHB2, LGWM2, LGEM2, LGEV2, LGHC2
Greases for high temperature applications: LGHP2, LGHB2, LGHC2, LGED2, LGET2
Greases for low temperature applications: LGLT2, LGWM1, LGWM2, LGLS0
Food grade lubricants: LGFP2, LGFQ2
As SKF bearing supplier, Nodes offer: On time deliveries, no minimums quantities, and combined sales experience of over 20 years in this field.
SKF grease catalogue
SKF LGHP 2 is a premium quality mineral oil based grease, high temperature grease, available pack size lghp 2/0.4, 2/1, 2/5, etc.
Inquire Now

SKF bearing grease LGMT 3 is mineral oil based, lithium soap thickened grease, packsize: LGMT3/0.5, LGMT3/1, 3/5, 3/18, 3/50, 3/180.
Inquire Now