The NSK bearing unit is a combination of a radial ball bearing, seal, and a housing of high-grade cast iron or pressed steel, which comes in various shapes. The outer surface of the bearing and the internal surface of the housing are spherical, so that the unit is self-aligning. The inside construction of the NSK ball bearing for the unit is such that steel balls and retainers of the same type as in series 62 and 63 of the deep groove ball bearing are used. A duplex seal consisting of a combination of an oil-proof synthetic rubber seal and a slinger is provided on both sides.
Depending on the type, the following methods of fitting to the shaft are employed: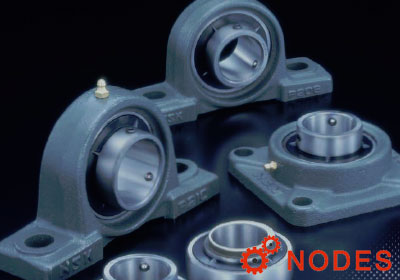 The inner ring is fastened onto the shaft in two places by set screws.
The inner ring has a tapered bore and is fitted to the shaft by means of an adapter.
In the eccentric locking collar system the inner ring is fastened to the shaft by means of eccentric groove provided at the side of the inner ring and on the collar.
NSK pillow blocks
NSK Pillow blocks with bearings mounted in rigid housings of simple construction are the most common bearing units. They are extensively used for various kinds of transmission equipment and machinery.
NSK Square Flanged Units
These NSK bearing housings have square flange which can be easily attached to a machine with four bolts.
With its simple mounting face, this bearing unit is widely used.
NSK Oval Flanged Units
These NSK bearing housings have oval flanges which can be easily installed onto a machine with two bolts.
This type of bearing unit is suitable where mounting space is limited or where it is necessary to minimize the distance between shafts. The distance between bolt holes of an oval flange type is generally equal to the distance between bolt holes diagonal position of square flange type.
NSK Ball Bearings Set Screw Type
This is the special bearing, designed for bearing units. There are many types according to installation ways etc.
related articles
Related numbers
Related products