NSK water pump bearings come in two types. One is a Ball Ball type (BWF) and the other is a Ball Roller type (RWF). The Ball Roller type design offers a much higher radial load capability of the roller row, which is particularly important when supporting either a fan or a relatively high off-set belt load.
Newly developed water resistant seals offer five times greater durability.
NSK has developed brand-new water resistant seals. As a result, the durability under wet conditions is increased over five times.
A better grease (WPH) was developed.
NSK has developed an improved grease for water pumps. It is superior in terms of resistance to water, heat, and rust.
Longer life is achieved by adoption of a new steel material.
The new steel is a low oxygen and high cleanliness steel which has a life three time longer than common bearing steels. Also, the steel is carburized to achieve a much longer life.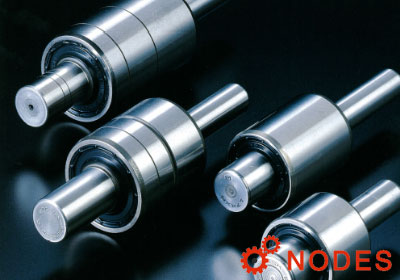 Any water (or water + coolant) entering through the mechanical seal may adversely affects the water pump bearing's effectiveness. If water enters into the bearing, surface fatigue occurs more repidly due to insufficient oil film formation. Consequently, the NSK bearing life decreases sharply. Therefore, it is very important to prevent water penetration to achieve full bearing life. NSK high durability water pump bearings are so named for their high durability and reliability.
Seals
R type seals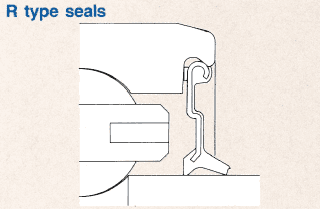 Since rubber seals tightly hug the outer ring recess, water penetration from the outside is prevented completely. A double-lip type seal is adopted, so that water penetration and grease leakage can be minimized.
HR type seals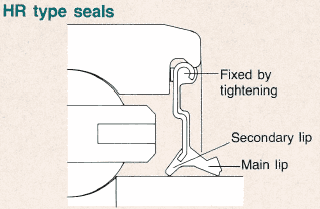 The water resistance of the main lips is increased beyond the drgree of R type seals. Also, the HR type seal provides improved sealing in environments of engine vibration and unbalanced runout vibration.
WHR type seals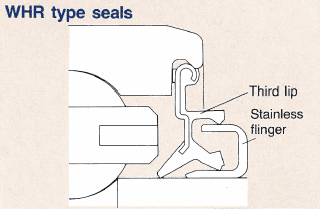 The third lip and flinger prevent water penetration remarkably well. The slinger prevents seal wear generated by a rusty surface, thereby increasing reliability.
Grease (WPH grease)
The recent trends toward more powerful and efficient engines require better grease which has higher resistance to heat, load and water. NSK's WPH grease was developed to answer these demands.
The thickener is a urea compound, which ensures proper lubrication for long periods because of its resistance to water and temperature effects.
The base oil of WPH is poly-alpha-olefin, which has high anti-oxidation capability and high heat stability. These characteristics result in excellent resistance to grease deterioration and bearing seizure at elevated bearing temperatures.
WPH has been show to be excellent for rust prevention.
NSK water pump beairng design and manufacturing
NSK high durability water pump bearings incorporate NSK's technology in their disign and manufacturing.
Roller in the bearings are crowned, thus avoiding edge loading even under an off-set load which would otherwise cause large misalignment.
NSK water pump bearings are designed to minimize stress concentration and are produced without distortion, to maintain the high strength required in certain applications such as those with cooling fan resonance or excessive belt tension.
Each chamfer is designed for ease of assembly and to avoid generating and unbalanced load.
related articles
Related numbers
Related products