TIMKEN crossed roller precision bearings are Designed to offer the highest levels of rotation accuracy and rigidity while conserving space and saving material costs.
This TIMKEN crossed roller precision bearing features two sets of races and rollers brought together at right angles – with alternate rollers facing opposite directions.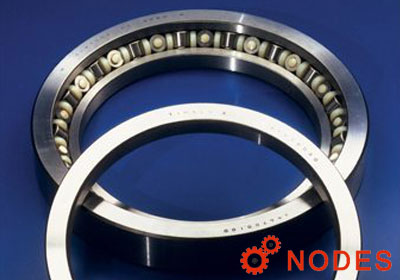 To save space and require less housing material, the bearing's cross section height barely exceeds that of a single-row bearing. Its steep-angle, tapered geometry results in a total effective bearing spread many times greater than the width of the bearing itself.
Able to withstand high overturning moments, the TIMKEN crossed roller bearing is ideal for the table bearing of machine tools, including vertical boring and grinding machines. It also is uniquely suited to many other pivot and pedestal applications where space is limited and the lowest possible center of gravity of a rotating mass is required.
Features and Benefits
Features
Benefits

Two rows of rollers in the space of one
Cross section occupies little space

Less housing material
Machining requirements reduced
Reduced cost

Roller configuration gives wide effective spread
Line contact on roller and raceway

Maximum accuracy of rotation
High stability
Greater tilting stiffness

Adjustable design for optimum preload

Longer expected bearing life
Maximum rigidity
Minimum runout

Relubrication ability – lubricant, fed between the single races, may pass out at each side of the bearing

Allows lubricants and contaminants to be purged

Low inertia
Low running torque

Provides tough, shock-resistant core and hard, wear-resistant surfaces
Schematic below showing the principle of the crossed roller bearing, where two sets of rollers are at right angles to each other (alternate rollers facing opposite directions) within a section height 'T'. Total effective bearing spread and, hence, stability of the bearing is much greater than the actual section height 'T'.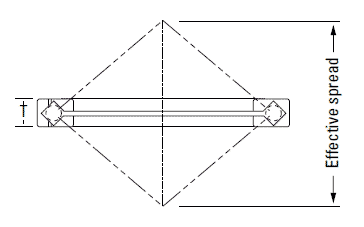 Products
The common configuration of TIMKEN crossed roller precision bearings are type TXRDO, featuring a double outer race and two inner rings, with rollers spaced by nylon separators. Other configurations to fit specific application needs are available.
Timken crossed roller bearings are available in bore sizes ranging from 203.2 mm to 1549.4 mm (8 in. to 61 in.), with radial and axial runouts as low as 5.08 μm (0.0002 in.).
Related products