FAG tapered roller bearings are characterized by high radial and axial load carrying capacity and by a large usable speed range. They are efficient at supporting forces and ensure a precise and rigid shaft guidance system due to the large effective distance between the bearings. They are adjustable, can be dismantled, and are therefore easy to fit.
However, the increasing productivity in industry means that rising demands are being made of tapered roller bearings as well. They should operate for longer, generate as little friction as possible, and of course be easy to maintain. Schaeffler's response: Tapered roller bearings in X-life quality.
X-life is the seal of quality for particularly high-performance products from the INA and FAG brands. X-life products are characterized by a high rating and operating life – the result of higher dynamic load ratings than those of current standard products. They therefore open up entirely new design possibilities and make a significant contribution to improving the overall costeffectiveness of the application.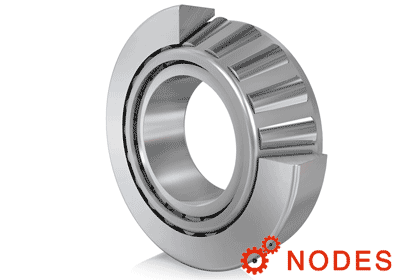 This increase in performance is down to the state-of-theart manufacturing technologies and improved internal construction. This produces better and more even surfaces and contact surfaces, and thus optimized load distribution in the bearing.
Higher dimensional and running accuracy
Significantly reduced dimensional and running tolerances compared with DIN 620 / ISO 492 tolerance class PN ensure optimum load distribution. Stress peaks are prevented even more effectively and material loading is thus reduced even further. In operation, X-life bearings are therefore characterized by significantly smoother running and lower levels of noise generation.
Through hardened premium material
The specially heat treated material makes the surfaces of the inner and outer rings more resistant to solid particles and under mixed friction conditions. This means a further considerable increase in the life of the tapered roller bearings. Bearings with an outside diameter of 220 mm and above are dimensionally stable up to operating temperatures of 200 °C.
Optimized surfaces
An elasto-hydrodynamic lubricant film is formed even at very low speeds due to the low surface roughness of the rings and the rollers. The bearings can be placed under very high loads directly after initial operation. Together with the increased geometrical and running accuracy of the X-life design, the improved surface topography reduces the generation of friction and heat to a large extent.
Improved geometry
The logarithmic profile for the raceways and the outside surfaces of the rollers was further optimized so that stress peaks under even higher loads and any possible skewing are compensated. The match between the contact geometry of the inner ring ribs and the roller end faces was improved again in order to further minimize friction and therefore reduce heat generation.
A high radial load combined with a high axial force, a large speed range, precise and rigid shaft guidance, and a low maintenance outlay: It pays to use our bearings in a wide range of industrial applications.
From the field: FAG tapered roller bearings in X-life quality are now indispensable for the construction and agricultural machinery sectors, where efficient and high-performance bearing supports are essential.
In the axle bearing, the optimized surfaces mean that a hydrodynamic lubricant film can be formed even at low speeds, e.g. during field operation. Friction and wear are reduced. Even at the pinion shaft's top speed (driving the tractor at 50 km/h on the road), the X-life tapered roller bearings prove their quality, efficiency, and durability. In addition to saving fuel, this also increases the reliability of the machine.
FAG tapered roller bearings in X-life quality increase the overall efficiency of your machines and equipment.
related articles
Related numbers
Related products