FAG hybrid spindle bearings have bearing rings made from steel and, in contrast to standard spindle bearings, rolling elements made from ceramic (silicon nitride Si3N4)
FAG hybrid spindle bearings achieve very high speeds, have lower friction and heat generation, a longer operating life, place less strain on the lubricant and are insensitive to lubricant starvation.
Through the use of hybrid bearings, the operating limits of bearings with grease lubrication have been shifted to significantly higher speed ranges. This results in considerable savings on overall machine system costs.
FAG cronidur beaerings
Cronidur bearings are suitable for very high speeds and have very high load carrying capacity. Cronidur bearings are always designed as hybrid bearings, with bearing rings made from Cronidur 30 and rolling elements made from ceramic (Si3N4). Cronidur 30 is a highly nitrided, corrosion-resistant steel.
Cronidur 30 has, in comparison with the normal rolling bearing steel 100Cr6, a significantly finer structure. As a result, less heat is generated in the bearing and the permissible contact pressure is higher.
In the mixed friction region Cronidur 30 has proved highly effective in comparison with the standard material 100Cr6.
It is also significantly superior to the conventional rolling bearing steels on the criteria of corrosion resistance and high temperature hardness.
The longer life of Cronidur bearings compared to conventional bearings makes a considerable contribution to reducing system costs.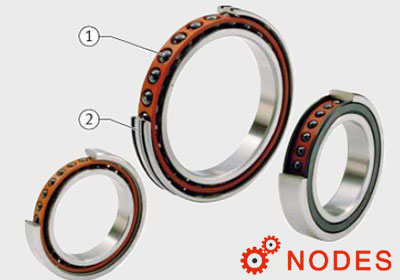 (1) Ceramic rolling elements
(2)Direct Lube design with circumferential annular grooves
related articles
Related products