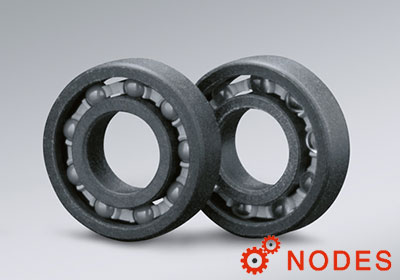 NSK aqoa-bearing features a special fluororesin for outer/inner rings and cages equipped to meet a boroad range of applications in water, alkali and strong acid environments. NSK aqoa-bearing is suitable for corrosive environments exclusively in normal atmosphere.
Special self-lubricating fluororesin makes greases and oil unnecessary.
Handle applications in strong acids or alkalis, ozonized water, various kinds of vapour and halogen gases.
The fibre reinforced fluorine material gives the inner and outer bearing rings increased strength and rigidity.
Long life; excellent durability in acid solvents.
Offers more than 1000x resistance than that of stainless steel SUS440C.
NSK aqoa-bearing features a special fluororesin for outer/inner rings and cages equipped to meet a boroad range of applications in water, alkali and s