NSK 608SZ1T36 ceramic bearings, Oxide-based
Also known as : 608SZ1T36, 608CE
Inside Diameter: 8 mm
Outside Diameter: 22 mm
Width: 7 mm
Basic dynamic load rating: 0 kN
Basic static load rating: 0 kN
Inquire Now

NSK 608SZ1T36 Bearing
NSK 608SZ1T36 Bearing details
| | |
| --- | --- |
| NSK bearing number | 608SZ1T36 |
| d | 8 mm |
| D | 22 mm |
| B | 7 mm |
| r | 0.3 mm |
NSK 608SZ1T36 bearing is all ceramic bearings. 608SZ1T36 bearings have self-lubricating fluororesin cages and are suitable for corrosive environments and non-magnetic requirement from normal atmosphere up to vacuum.
NSK 608SZ1T36 bearing is widely used in corrosive environments (such as semiconductor production machinery, chemical processing equipment, metal plating equipment) and non-magnetic requirement (such as electron beam drawing devices, electron beam exposure equipment, testers).
NSK 608SZ1T36 bearing about operating instructions and notes
608SZ1T36 bearing is ceramics material which is a fragile material, please observe the following precautions.
Do not drop or strike the 608SZ1T36 bearing.
Allow for sufficient clearance when installing the 608SZ1T36 bearing.
Do not strike the 608SZ1T36 bearing with a hammer or other tool when installing the NSK bearing to a shaft or axle box.
The applications scope of NSK 608SZ1T36 bearing is shown in the table below.
| | |
| --- | --- |
| Operating environment | Corrosive (alkali, weak acid), Non-magnetic |
| Operating temperature | Up to 150°C |
| Limiting rotational speed | dmn = 20 000 |
| Limiting load | 5% of the stainless steel bearing load rating CH |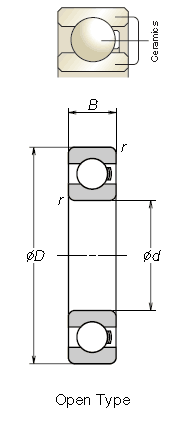 NSK 608SZ1T36 bearing cross reference