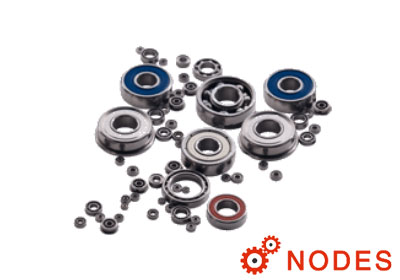 Standard and Flange-attached type
NTN miniature and extra small bearings are in accordance with the internationally specified ISO and ANSI/ABMA standards. The most widely used sealed and shielded type NTN ball bearings have a 1–2 mm wider width dimension than open type bearings.
NTN miniature and extra small bearings come in two types, they are:
Standard type: 6, BC, R, W6, WBC, RA
Flange-attached type: FL6, FLBC, FLR, FLW6, FLWBC, FLRA
Among the most NTN miniature ball bearings generally used sealed and shielded bearings are standard ZZ and ZZA type which incorporate non-contact steel shield plates. Non-contact type rubber sealed LLB and resin sealed SSA type bearings, and the contact-type rubber sealed LLU bearing are also available.
NTN miniature ball bearings' cage
Pressed cage are standard for these bearings. However, molded resin cage are used for some bearings depending on the application.
Displaying 77 NTN miniature ball bearings.