SKF filament wound bushings are made of resin and fibres wound in multiple layers. Modern filament winding technology has made it possible to produce a new, innovative bearing material. It combines the special mechanical properties of glass fibre with the excellent tribological properties of high-strength thermoplastic and PTFE fibres embedded in epoxy resin. The defined position of the strands in the criss-cross pattern and the intensive binding between the strands and the resin provide enables this composite material to accommodate heavy loads and vibrations in corrosive environments. SKF filament wound bushings are often dimensionally interchangeable with solid bronze or steel bushings. SKF offers a standard assortment of straight filament wound bushings. Advantages of these bushings include:
high load carrying capacity
ability to accommodate shock loads and vibrations
good impact resistance
insensitive to misalignment and edge loading
good noise and vibration damping
maintenance-free operation
corrosion-resistant
very good chemical resistance
very good frictional behaviour
very good electrical insulator
SKF filament wound bushings are suitable for applications where heavy loads together with vibrations occur and where maintenance-free operation is preferred. Application area examples for these bushings are:
construction machinery
agricultural and forestry machinery
hoisting and conveyor equipment
offshore equipment
SKF filament wound bushings material
The modern technique of fibre winding, together with a specially developed resin matrix, combines the outstanding mechanical properties of glass-fibre with the excellent tribological behaviour of PTFE and high strength thermoplastic PES fibres. With the exception of the sliding layer, all SKF filament wound bushings can be machined.
Lubrication
SKF filament wound bushings have excellent dry sliding characteristics due to the unique sliding surface consisting of PTFE and PES fibres in an epoxy resin. The low friction sliding surface does not require additional lubricant. However, the presence of a lubricant offers protection against contaminants and has no negative effect.
NOTE: Seals are recommended when the bushing is to be used in a highly contaminated environment.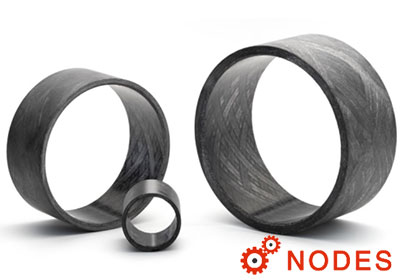 SKF filament wound bushings are available as straight bushings.
Characteristics
Permissible load (dyn/stat), N/mm2: 140 / 200
Permissible sliding velocity, m/s: 0,5
Friction coefficient m: 0,03 .. 0,08
Temperature range, °C: –50 .. +140
Application recommendations
Shaft tolerance: h8
Housing tolerance: H7
Shaft roughness Ra, mm: 0,2 – 0,4
Shaft hardness, HB: > 490
---