SKF double row cylindrical roller bearings are available in several designs with a cylindrical or tapered bore. The SKF standard assortment presented in this section includes:
NNU design bearings
NN design bearings
NNUP design bearings
SKF double row cylindrical roller bearing features
High load carrying capacity
Because of their second row of rollers, double row cylindrical roller bearings are suitable for heavy radial loads.
Low friction (Roller end / flange contact area)
The open flange design, together with the roller end design and surface finish, promote lubricant film formation resulting in lower friction and higher axial load carrying capacity.
Long service life
The logarithmic roller profile reduces edge stresses at the roller/raceway contact and sensitivity to misalignment and shaft deflection.
Enhanced operational reliability
The surface finish on the contact surfaces of the rollers and raceways supports the formation of a hydrodynamic lubricant film.
Separable and interchangeable
The separable components of SKF double row cylindrical roller bearings are interchangeable. This facilitates mounting and dismounting, as well as maintenance inspections.
High speed capability
The cage designs are suitable for high speeds, rapid accelerations and impact loads.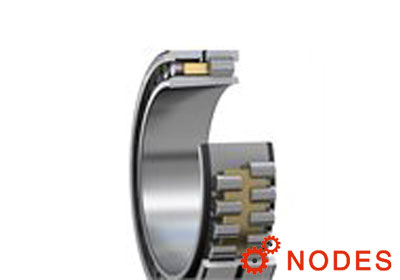 SKF double row cylindrical roller bearing features
SKF basic design double row cylindrical roller bearings are available in several designs. The major design differences between the bearings are the configuration of the inner and outer ring flanges and the cage design and material. The most popular designs are:
Bearing design
Flange configurations
Cage design
NNU design


outer ring: three integral
inner ring: none

one cage
machined brass or steel
double prong-type
roller centred

NNU.1 design


outer ring: three integral
inner ring: none

two cages
machined brass
window-type
roller centred

NNU.2 design


outer ring: one integral central and two loose
inner ring: none

one cage
machined brass or steel
double prong-type
roller centred

NNU.3 design


outer ring: three integral
inner ring: none

two cages
machined steel
pin-type
pierced rollers

NNU.4 design


outer ring: one integral central and two loose
inner ring: none

two cages
machined steel
pin-type
pierced rollers

NNU.5 design


outer ring: two integral
inner ring: none

one cage
machined brass
window-type
roller centred

NNU.6 design


outer ring: two integral
inner ring: none

one cage
machined steel
pin-type
pierced rollers

NNU.7 design


outer ring: one integral and one loose
inner ring: none

one cage
machined brass
window-type
roller centred

NNUB design


outer ring: three integral
extended inner ring: none

one cage
machined brass or steel
double prong-type
roller centred

NNUB.1 design


outer ring: one integral central and two loose
extended inner ring: none

one cage
machined brass or steel
double prong-type
roller centred

NNUB.2 design


outer ring: two integral
extended inner ring: none

one cage
machined brass
window-type
roller centred

NNUB.3 design


outer ring: two integral
extended inner ring: none

one cage
machined steel
pin-type
pierced rollers

NNUB.4 design


outer ring: three integral
extended inner ring: none

two cages
machined brass
window-type
roller centred

NNUB.5 design


outer ring: one integral central and two loose
extended inner ring: none

two cages
machined steel
pin-type
pierced rollers

NNUP design


outer ring: three integral
inner ring: one integral and two loose

one cage
machined brass or steel
double prong-type
roller centred

NNUP.1 design


outer ring: two integral and one loose
inner ring: one integral and one loose

two cages
machined steel
pin-type
pierced rollers

NN design


outer ring: none
inner ring: three integral

one cage
machined brass or steel
double prong-type
roller centred

NN.1 design


outer ring: none
inner ring: three integral

two cages
either PA66 or stamped steel
window-type
roller centred

NN.2 design


outer ring: none
inner ring: three integral

two cages
machined steel
pin-type
pierced rollers

NN.3 design


outer ring: none
inner ring: one integral and two loose

two cages
machined steel
pin-type
pierced rollers
related articles
Related products