SKF self-aligning ball bearings have two rows of balls, a common sphered raceway in the outer ring and two deep uninterrupted raceway grooves in the inner ring. Sealed bearings equipped with contact seals on both sides are available:
in the 22 and 23 series
with bore diameter from 10 to 70 mm
with seals made of sheet steel reinforced NBR (oil and wear-resistant, designation suffix 2RS1)
Permissible angular misalignment of sealed bearings is slightly reduced compared to open design bearings.
Greases for capped bearings
SKF sealed self-aligning ball bearings on both sides are lubricated for the life of the bearing and are virtually maintenance-free. They are filled with one of the following standard greases, which have good corrosion inhibiting properties:
D ≤ 62 → MT47 grease
D > 62 → MT33 grease
Grease life for SKF sealed self-aligning ball bearings
is presented as L10, i.e. the time period at the end of which 90% of the bearings are still reliably lubricated
depends on the operating temperature and the speed factor.
The grease life is valid for the following combination of operating conditions:
horizontal shaft
inner ring rotation
light load (P ≤ 0,05 C)
operating temperature within the green temperature zone of the grease
stationary machine
low vibration levels
Where the operating conditions differ, the grease life obtained from the diagram should be adjusted:
vertical shafts → 50% of the obtained value
heavier loads (P > 0,05 C) → apply reduction factor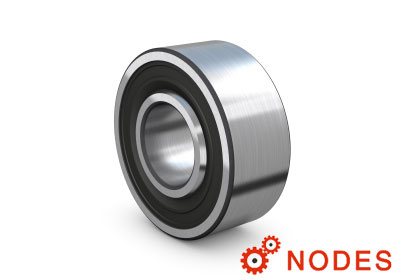 related articles
Related numbers
Related products