Variations may differ based on bearing size and/or series.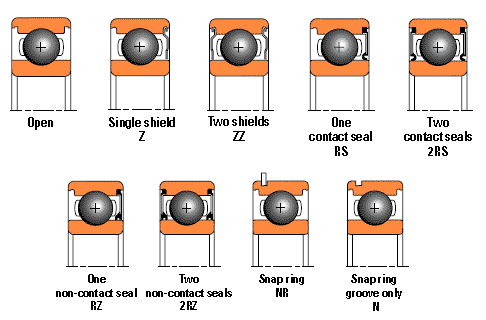 Deep groove ball bearing configurations
TIMKEN deep groove ball bearings are available in a variety of sizes and are the most popular of the rolling bearings. This type of bearing supports radial load and a small degree of axial load in both directions simultaneously. Deep groove ball bearings are popular due to their versatility, affordability, and capability to run at high speeds.
Timken offers deep groove ball bearings in a wide range of sizes and configurations. Offered sizes range from 3 mm to 400 mm bore, and maximum outside diameter (O.D.) of 600 mm. Timken continues to expand the offering of deep groove ball bearings with larger sizes to be introduced. Contact your Timken sales representative for questions and new opportunities.
There are several series of deep groove ball bearings that have been standardized by bearing manufacturers. The boundary dimensions for standard metric bearings are contained in the general plans as specified in ISO (International Organization for Standardization) standard 15:2011 for radial rolling bearings.
The Timken offering includes standard, thin-section, narrow, wide, miniature and extra-small constructions. The offering includes:
Open basic design
With shields
With contact seals
With non-contact seals
With a snap ring groove on the outer ring O.D.
With a snap ring on the outer ring O.D.
---
oterh articles about TIMKEN ball bearings