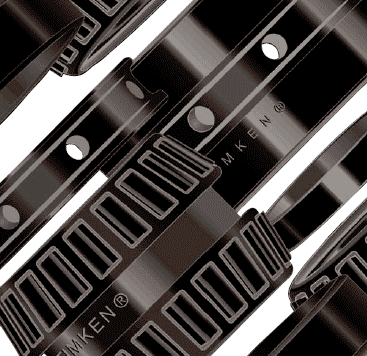 Spacer bearing assemblies speed up bearing installation time because there is no need for bearing adjustment. Spacer bearing assemblies are suitable for use with two-row and four-row Timken® tapered roller bearings to preset the bench lateral (bench end play). Most matched bearing assemblies have serial numbers to ensure correct installation sequence.
Timken spacer bearings are precisely ground to provide the exact bench lateral required for the particular bearing application.
Since each spacer is custom-fitted to a particular set of components, a spacer cannot be used with any other bearing components – even if they carry the same part numbers.
When ordering replacement bearing assemblies, specify:
cone number
assembly number.
If you do not have the assembly number, specify the component part numbers including:
cone number
cup number
spacer number
bench end play, which is etched on the spacer.
If you do not have any part numbers for the spacer assembly, specify:
Name of equipment
Model number
Year
Application position of the bearing.
Tapered Double Outer (TDO)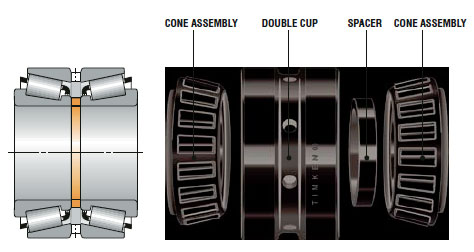 This diagram depicts the way spacers are used between the cone front faces in the TDO bearing. The spacer fits between the two single cones.
Tapered Double Inner (TDI)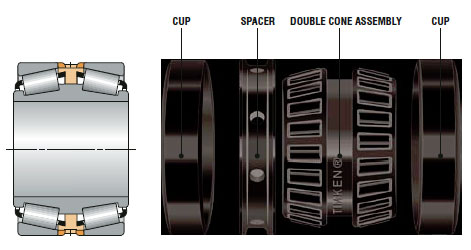 Here is an example of how spacers are used between the cup front faces in the type TDI bearing. The spacer fits between the two single cups.
---