TIMKEN TDO tapered roller bearings consists of a single-piece (double) outer ring and two single inner rings. The configuration of the TDO provides a wide effective bearing spread, making it ideal for applications in which overturning moments are a significant load component. TDO bearings can be used in fixed positions or allowed to float in the housing bore.
TIMKEN TDO bearings are usually supplied complete with an inner-ring spacer as a pre-set assembly. To suit the application duty, the built-in setting value needs to be established by your Timken engineer before an order is placed. Double outer ring can be used with any single inner ring from the same series. The tables list regularly specified inner-ring part numbers.
Double-outer ring configurations
D
D suffix has a groove with oil holes for lubrication through the outer ring.
CD

CD suffix now replaces the DC suffix listed for part numbers in previous publications.

Same features as D suffix, but CD also has groove with oil holes. One lubrication hole is counterbored to accept an anti-rotational pin.

Default configuration for most series.
Size range:
ID 25.400 mm to 1200.150 mm (1.0000 in. to 47.2500 in.)
OD 30.480 mm to 2460.000 mm (1.2000 in. to 96.8504 in.)
Design Attributes:
Double cup and two single cones, with or without a spacer.
When spacers are used, bearing is furnished as a preset, matched assembly.
Cup features groove and lubrication holes in the OD.
Spacers available with or without lubricant grooves and holes.
Applications:
Heavy-duty gear drives
Various industrial configurations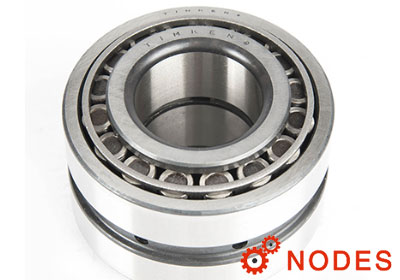 related articles
Related products