FAG spindle bearings are super precision machine elements that react with high sensitivity to harmful influences from the environment
In sealed designs, the rolling element system is protected by gap seals on both sides of the bearings.
Due to their particular advantages, these non-contact seals have long been the state of the art for sealed main spindle bearings.
FAG sealed spindle bearings with small balls have the letter S (Sealed) in the designation. Spindle bearings with large balls have the suffix 2RSD.
Since the grease operating life can generally be equated to the bearing operating life, machine life values are also directly influenced by the correct grease quantity and selection of the lubricant.
Sealed bearings are therefore supplied already greased with the correct quantity of a high performance grease.
Furthermore, the increase in the use of sealed bearings reflects the change from oil lubrication to economical grease lubrication with ready-to-fit, maintenance-free bearings with lifetime lubrication.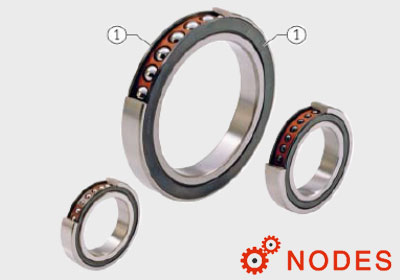 (1) Gap seals
FAG sealed spindle bearings
related articles
Related numbers
Related products