FAG spindle bearings are super precision single row angular contact ball bearings with solid outer and inner rings, ball and cage assemblies and solid window cages. The dimensions are standardised.
Due to their very narrow tolerances, the FAG spindle bearings are particularly suitable for applications involving the highest requirements for guidance accuracy, such as bearing arrangements for main spindles in machine tools.
FAG spindle bearings are always designed as universal bearings, which means that:
The bearing rings are of the same width.
The projection on both sides of the bearing is of the same size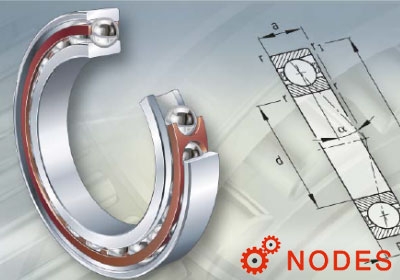 FAG Spindle bearings
Single FAG bearings can be fitted in any arrangement required, such as a rigid X, O or tandem arrangement or with spring preloading, or can be combined in different sets.
In order to ensure uniform load-bearing in the tandem arrangement, the bearings used should have the same deviation in the inner ring bore and the outside diameter.
In an O arrangement and with rigid adjustment, sorting through checking of the interference between the shaft and bearing bore or the housing and bearing outside diameter can help to control the differences in the actual preload after mounting.
Arrangement of the FAG precision bearings can be carried out in accordance with the arrow on the cylindrical surface of the outer ring. This provides logistical advantages for the customer, especially in spare parts procurement and stockholding of bearings.
Extensive range of product variants
The FAG bearings are available in all the designs that are relevant to bearing arrangements for main spindles in machine tools. This extensive range of variants is presented in the dimension tables. In addition to the products listed therein, further designs are available by agreement.
This extensive product range gives the designer all possible scope for developing technically innovative, operationally secure and economical bearing arrangements. This results in significant performance improvements and cost savings in machine tools.
In new designs, this can allow the machine manufacturer to achieve a unique position in the market. In existing designs too, refitting with FAG spindle bearings can still give further increases in the performance and profitability of machines.
Universal bearing sets
FAG bearing sets comprise universal bearings with the same deviation in the inner ring bore and the same deviation in the outside diameter. The deviation stands as the actual value code for the inner ring bore or the outside diameter on the bearing ring.
The sets are of identical technical quality to single bearings with the same deviation in the inner ring bore and the outside diameter.
The first letter indicates the number of FAG bearings in the set:
D = 2 bearings (duplex)
T = 3 bearings (triplex)
Q = 4 bearings (quadruplex).
A "U" stands for "Universal", for example in DU. After these letters, the preload class is then indicated, for example "L" for light preload, in this case DUL.
FAG universal bearing sets can be mounted in any arrangement required. Possible bearing arrangements are shown as follows.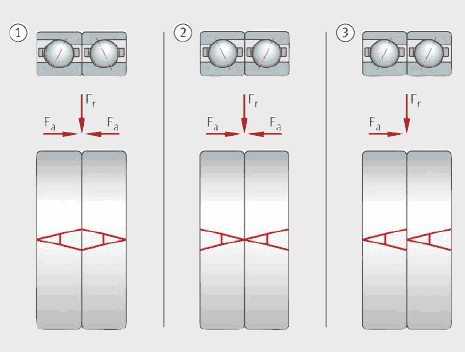 related articles
Related numbers
Related products