IKO International introduces the CRWG Anti-Creep Cage Crossed Roller Way, a linear motion rolling guide for use in applications where cage creep is an issue. The CRWG features a novel design in which the built-in rack and pinion mechanism eliminates cage creep, resulting in highly accurate and smooth linear motion.
These anti-creep roller ways may be mounted in any direction and are especially useful in vertical axis applications where traditional crossed roller ways exhibit cage creep problems. CRWG roller ways are dimensionally interchangeable with IKO's standard Crossed Roller Ways and may be easily installed without any modifications to the existing machine design.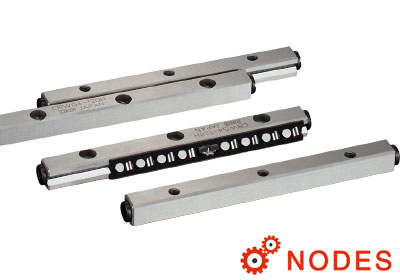 CRWG IKO crossed roller ways are made of high-quality carbon steel and synthetic resin parts. A combination of precisely finished raceways and non-recirculating cages with high-precision rollers enables very high running accuracy, suitable for step positioning. With regard to lubrication, oil is generally used for high-speed or low-friction operation, whereas lithium grease is recommended for low-speed applications. Maximum operating temperature is 120° C, or 100° C for continuous operation. Maximum operating speed is 30 m per minute.
IKO CRWG anti-creep crossed roller ways are supplied in a package of four ways and two roller cages to be used in parallel, with load ratings calculated using this setup. Basic dynamic load capacities range from 913 to 37,200 N, with basic static load ratings from 1,180 to 64,600 N, depending on model size. CRWG roller ways are available in lengths from 30 to 350 mm, with maximum stroke lengths from 9 to 151 mm. Rigorous vibration testing in vertical installations exhibited zero cage creep after 100,000,000 test cycles.
Two other styles are also available within the CRWG Anti-Creep family of crossed roller ways. CRWG...H is designed for high-load applications and features a specially designed raceway. Available lengths range from 50 to 320 mm with basic dynamic load capacities from 4,260 to 35,700 N, depending on model size. Maximum stroke lengths range from 13 to 138 mm. The CRWUG is supplied as a complete table unit in lengths from 35 to 205 mm. Basic dynamic load capacities range from 913 to 11,500 N, with maximum stroke lengths from 18 to 135 mm, depending on unit size.
---