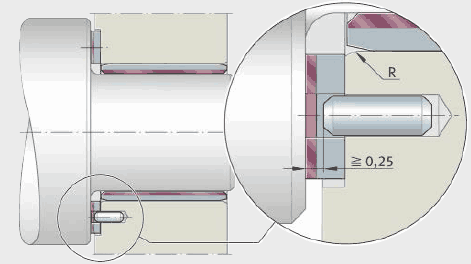 Concentric seating of INA thrust washers is ensured by means of recesses in the housing. Diameters and depths of recesses, see INA bearing dimension tables.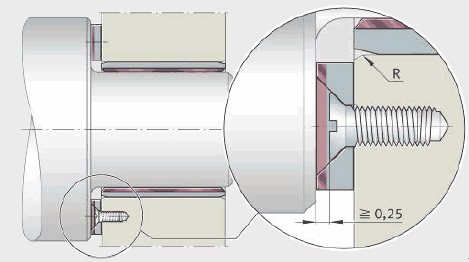 Undesirable rotation of the INA thrust washers must be prevented by means of a dowel pin or countersunk head screw. The screw head or dowel pin must be recessed relative to the running surface by at least 0,25 mm. Size and arrangement of the holes.
If it is not possible to make a recess in the housing, the INA plain bearings must be secured by means of several dowel pins or screws. It is also possible to use other cost-effective joining techniques such as laser welding, soft soldering or adhesive bonding.
It is not always necessary to provide security against rotation. In some cases, the adhesive friction between the backing of the plain bearing and the housing will be sufficient.
INA strips can be located in the same way as thrust washers.
---