As INA bearing distributor, Nodes bearings have INA machined needle roller bearings NK and NKI in stock.
INA machined needle roller bearings NK and NKI are successful machine elements for the desgin of radially compact bearing arrangements with very high load carrying capacity. They consist of machined bearing rings and needle roller and cage assemblies with cages made from either plastic or deep drawn steel strip. INA bearings of series NKI have an inner ring while series NK is supplied without an inner ring. INA bearings without an inner ring are most suitable if the shaft can be hardened and ground.
The material for the plastic cages is heat-stabilised, glass fibre-reinforced polyamide 66. This material has high strength and elasticity. Cage friction is low due to the positive sliding characteristics of the plastic on lubricated steel surfaces and the low roughness of the cage surface. This leads to reduced heat generation within the bearing. Since the material density is lower than that of steel cages, the mass inertia forces of the cage are lower. Polyamide cages have good emergency running characteristics, can be produced in the functionally correct form by the injection moulding process and are resistant to organic solvents and diluted alkaline cleaning agents. They also run with very little noise.
INA needle roller bearings NK were previously produced up to enveloping circle diameter Fw=10mm with plastic cages, while needle roller bearings NKI were produced up to a bore diameter of 7 mm with plastic cages. In order to further exploit the advantages of these cages, additional sizes now have plastic cages. The cages are designed to accommodate more rolling elements than steel cages.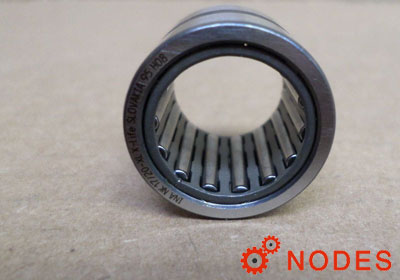 Since more rolling elements in the same space give higher load carrying capacity, the new INA bearings have higher load capacities than comparable bearings with a conventional steel cage.
The new series:
have proven, high performance plastic cages
have higher basic dynamic and static load ratings than the previous designs
allow smaller bearing arrangements, if necessary, under the same load
have little running noise
allow very economical bearing arrangements.
related articles
Related numbers
Related products