Nodes supplies SKF INSOCOAT bearings, including deep groove ball bearings, and cylindrical roller bearings.
Electric motors, generators and associated equipment are at risk when an electric current passes through their bearings. This can damage the contact surfaces of rolling elements and raceways in the bearings (electrical erosion) and rapidly degrade the grease. SKF INSOCOAT bearings are designed to prevent electric current from passing through the bearing. The external surfaces of either their inner or outer ring are coated with an insulating aluminium oxide layer, by applying a sophisticated plasma-spray process for an outstanding quality finish. The solutions are very cost-effective compared with other insulation methods.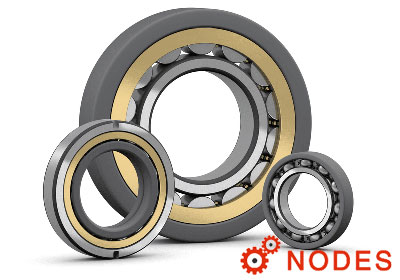 Features
Protection against electrical erosion: With insulating properties integrated into the bearing, INSOCOAT bearings can improve reliability and increase machine uptime by virtually eliminating the problem of electrical erosion.
High electrical resistance: The aluminium oxide coating provides a minimum electrical resistance of 200 MΩ and can withstand voltages up to 3 000 V DC.
Consistent electrical performance: Plasma-spray coatings are normally hygroscopic and, therefore, vulnerable to penetration caused by condensation.
SKF INSOCOAT bearings with a coated outer ring
SKF INSOCOAT bearings typically have the external surfaces of the outer ring coated with aluminium oxide. These SKF bearings are identified by the following designation suffixes:
VL0241 – standard layer, Breakdown voltage (DC): 3000 V, Minimum electrical resistance: 200 MΩ
VL0246 – advanced layer for higher electrical resistance, Breakdown voltage (DC): 3000 V, Minimum electrical resistance: 400 MΩ
SKF INSOCOAT bearings with a coated inner ring
SKF INSOCOAT bearings that have the external surfaces of the inner ring coated with aluminium oxide provide enhanced protection against high frequency electric currents. These bearings are identified by the following designation suffixes:
VL2071 – standard layer, Breakdown voltage (DC): 3000 V, Minimum electrical resistance: 200 MΩ
VL2076 – advanced layer for higher electrical resistance, Breakdown voltage (DC): 3000 V, Minimum electrical resistance: 400 MΩ
Cages for SKF INSOCOAT bearings
SKF INSOCOAT deep groove ball bearings are fitted with one of the following cages:
a stamped steel cage, riveted, ball centred (no designation suffix)
a machined brass cage, riveted, ball centred (designation suffix M)
SKF INSOCOAT cylindrical roller bearings are fitted with one of the following cages:
a glass fibre reinforced PA66 cage, window-type, roller centred (designation suffix P)
a machined brass cage, riveted, roller centred (designation suffix M)
a machined brass cage, window-type, inner or outer ring centred (depending on bearing design) (designation suffix ML)
Related products