As a SKF bearing distributor, Nodes have SKF single row tapered roller bearings in stock, including basic design bearings, application-specific bearings, and bearings with a flanged outer ring.
SKF single row tapered roller bearings are designed to accommodate combined loads, i.e. simultaneously acting radial and axial loads. The projection lines of the raceways meet at a common point on the bearing axis to provide a true rolling action and therefore low frictional moments during operation. The axial load carrying capacity of tapered roller bearings increases with increasing contact angle α. The size of the contact angle, which is usually between 10° and 30°, is related to the calculation factor e (see: SKF tapered roller bearings catalogue): the larger the value of e, the larger the contact angle.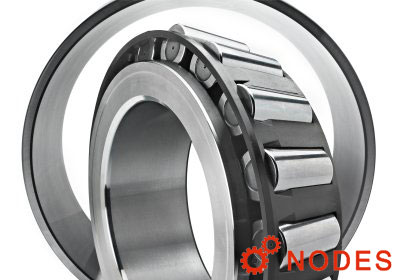 SKF single row tapered roller bearing features
Low friction
The optimized roller end design and surface finish on the flange promote lubricant film formation, resulting in lower friction. This also reduces frictional heat and flange wear. In addition, the bearings can better maintain preload and run at reduced noise levels.
Long service life
The crowned raceway profiles of basic design bearings and the logarithmic raceway profiles of SKF Explorer bearings optimize the load distribution along the contact surfaces, reduce stress peaks at the roller ends, and reduce the sensitivity to misalignment and shaft deflection compared with conventional straight raceway profiles.
Enhanced operational reliability
Optimized surface finish on the contact surfaces of the rollers and raceways supports the formation of a hydrodynamic lubricant film.
Consistency of roller profiles and sizes
The rollers incorporated in SKF tapered roller bearings are manufactured to such close dimensional and geometrical tolerances that they are practically identical. This provides optimal load distribution, reduces noise and vibration, and enables preload to be set more accurately.
Rigid bearing application
A single row tapered roller bearing is typically adjusted against a second tapered roller bearing. By applying a preload, a rigid bearing application can be achieved.
Running-in period with reduced temperature peaks
Taper roller bearings typically have a running-in period, during which a conventional design tapered roller bearing experiences a significant amount of friction, resulting in wear. This effect is noticed as a temperature spike. With SKF tapered roller bearing designs, friction, frictional heat and wear are significantly reduced, provided the bearings are mounted and lubricated correctly.
Separable and interchangeable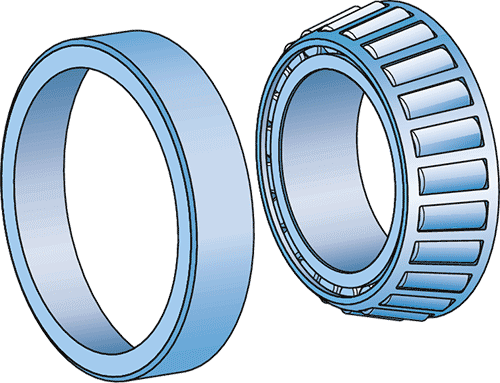 The inner ring with roller and cage assembly (cone) can be mounted separately from the outer ring (cup). Furthermore, the separable components are interchangeable. This facilitates mounting, dismounting and also maintenance inspection routines.
Designs and variants
Basic design bearings
have a design and internal geometry that provide long service life
have crowned raceway profiles and an optimized surface finish of the inner ring guide flange that enables them to run cooler and consume less lubricant than conventional design bearings
have load rating values that are in accordance with ISO and even above (see: SKF bearing size chart)
offer a cost-effective solution for standard industrial applications
SKF Explorer bearings
SKF continuously expands its assortment of SKF Explorer bearings. In addition to the existing SKF Explorer single row tapered roller bearings, SKF can also manufacture basic design tapered roller bearings as SKF Explorer bearings, on request. These SKF Explorer tapered roller bearings are identified by the designation suffix PEX.
Application-specific bearings
For applications where the bearings are subjected to unique operating conditions, SKF manufactures customized single row tapered roller bearings on request. To meet the needs of these particular applications, SKF manufactures, for example, pinion or low friction bearings with the following features:
Pinion bearings
are designed for pinion shafts in the differentials of automotive transmissions to provide a constant, accurate gear mesh
have very narrow geometrical tolerances and high preload capability
have special friction characteristics and can be axially adjusted within narrow limits using the friction-torque method
have an internal design that supports the formation of a hydrodynamic lubricant film to substantially reduce friction, and consequently the operating temperature, during the running-in period
retain their preload setting when mounted, lubricated and maintained properly
are identified by the designation suffix CL7C
Low friction bearings
are designed to meet the ever-increasing demands to reduce friction and energy use
optimize a reduction in friction through their internal geometry, number of rollers, surface finish and redesign of their cage
have a frictional moment that is at least 30% lower when compared with a same-sized SKF standard bearing
normally do not need a running-in procedure because their optimized contact profiles provide optimum load distribution and they experience only a small, controlled loss of initial preload
generate less frictional heat and therefore enable extended lubrication intervals or operation at higher speeds
have a roller and cage assembly with a lower mass and therefore reduced inertial forces in the bearing, which reduce the risk of skidding and smearing
are typically used in automotive and industrial transmissions
Bearings with a flanged outer ring
SKF also manufactures certain sizes of single row tapered roller bearings with a flange on the outer ring. These bearings are easy to locate axially in the housing. The housing bore can be manufactured more easily and more cost-effectively because housing shoulders are not required.
related articles
Related numbers
Related products