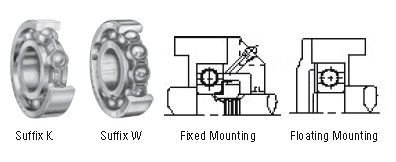 The basic types of Timken ball bearings are shown here. They are the non-filling slot or Conrad, which is identified by the suffix K and the filling slot designated by the suffix W.
The TIMKEN non-filling slot or Conrad bearing has uninterrupted raceway shoulders and is capable of supporting radial, thrust or combined loads. The filling slot type, which is assembled with more balls than a K-Type of the same size, has a greater capacity than the K-Type, but has limited thrust capacity due to the filling slots in the raceway shoulders.
Both K and W can be mounted with or without locknuts and either fixed or floating in their housings as illustrated here.
TIMKEN angular contact ball bearings
Single-Row Type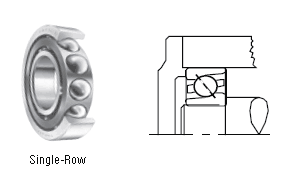 TIMKEN single-row, angular contact ball bearings are designed for combination loading with high thrust capacity in one direction, and are suggested for applications where the magnitude of the thrust component is high enough to preclude the use of radial type ball bearings. They are dimensionally interchangeable with single-row radial bearings of corresponding sizes.
The TIMKEN angular contact ball bearing has a relatively large contact angle, high race depths, and a maximum complement of balls assembled through a counterbore in the outer ring. These features provide bearings with significantly more thrust capacity than radial bearings of the same size.
TIMKEN angular contact bearings are used in such applications as gear reducers, pumps, worm drives, vertical shafts and machine tool spindles, where they are frequently mounted in various duplex arrangements as described in the duplex section.
Double-Row Type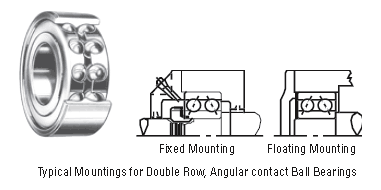 TIMKEN double-row, angular contact ball bearings are used effectively where heavy radial, thrust or combined loads demand axial rigidity of the shaft. This type is similar to a duplex pair of single-row bearings by virtue of its two rows of balls and angular-contact construction, which provide greater axial and radial rigidity than can be obtained by using a single-row radial bearing.
With the exception of small sizes, TIMKEN double-row ball bearings are made in the filling slot construction, and therefore, do not have as much thrust capacity as equivalent size single-row, angular contact bearings mounted in duplex pairs. Fixed and floating mountings of double-row bearings are shown. Smaller sizes are supplied with polymeric retainers.
TIMKEN ball bearings with snap rings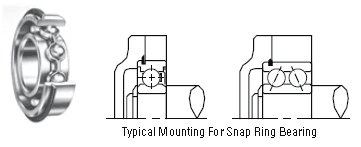 Single-row TIMKEN radial bearings including those with seals or shields and open and shielded double-row types are available with snap rings, which provide a shoulder integral with the bearing, designed for mounting in through-bored housings. This feature is designated by adding the suffix "G" to the standard bearing number. Single shielded or sealed bearings with snap rings can be supplied with the snap ring on the same side or that opposite the shield or seal position.
These TIMKEN bearings are advantageous in automobile transmission design and in all applications where compactness is essential, or where it is difficult and costly to machine housing shoulders. The snap ring provides an adequate shoulder for the bearings without sacrifice in bearing capacity. The thrust capacity of the snap ring in shear is considerably above the thrust capacity of the bearing.
TIMKEN super precision ball bearings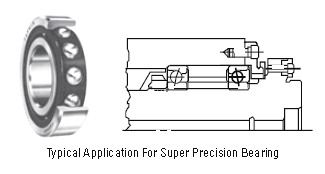 Every Timken Fafnir ball bearing manufactured is made to precision tolerances. The standard tolerances established by the Annular Bearing Engineers Committee (ABEC) are adhered to, and even the most liberal classification, ABEC 1 ensures a precision product by nature. Many applications in numerous types of machinery can be satisfactorily operated with ABEC 1 tolerance bearings.
However, for applications involving high speeds, extreme accuracy and rigidity in such equipment as high-grade machine tools, woodworking machines, gas turbines and sensitive precision instruments, a complete line of Timken Fafnir super precision ball bearings is manufactured to ABEC 7 and ABEC 9 tolerances.
TIMKEN ball bearings with locking devices
By virtue of their independent locking devices, these TIMKEN bearings are suitable for mounting on straight shafting (no shoulders, etc.). They are often supplied with spherical outer rings for self-alignment at mounting. Mounted alignment is usually required because these bearings are generally assembled into pillow blocks or flanged cartridges, or other housings bolted to pedestals or frames independent of each other.
Self-Locking (Eccentric) Collar
Timken invented the eccentric self-locking collar to facilitate mounting of wide inner ring bearings. The self-locking collar eliminates the need for locknuts, lockwashers, shoulders, sleeves and adapters.
The locking collar has a counterbored recess eccentric with the collar bore. This eccentric recess engages or mates with an eccentric cam end of the bearing inner ring when the bearing is assembled on the shaft.
The collar is engaged on the inner ring cam of the bearing. This assembly grips the shaft tightly with a positive binding action that increases with use. No adjustments of any kind are necessary. The collar setscrew provides supplementary locking.
Easiest of all to install, wide inner ring ball bearings with selflocking collars are available in various sizes. These bearings shown with various seal and inner ring width variations serve many applications in farm and industrial applications.
Setscrew Series Bearings
The GYA-RRB and the GY-KRRB series relubricatable and nonrelubricatable bearings are extended inner ring and wide inner ring type bearings with specially designed setscrews to lock on shafting. Positive contact land-riding R-Seals provide protection against harmful contaminants and retain lubricant. Extended inner ring bearings are used when space is at a premium and over turning loads are not a problem. The new wide inner ring setscrew series is available when additional surface contact on the shaft is a requirement for added stability.
Concentric Collar
Using the concentric collar, the bearing is locked to the shaft by two setscrews, 120 degrees apart, tightened in the collar and passing through drilled holes in the inner ring. These units are suited for applications where space is limited and reversing shaft rotation is encountered.
---
oterh articles about TIMKEN ball bearings