INA Stud type track rollers with an eccentric collar can be adjusted by means of a hexagonal socket on the flanged or threaded side of the roller stud. The outer ring outside surface can thus be adjusted against the mating track; as a result, less accurate manufacturing tolerances on the adjacent construction can be tolerated. Furthermore, this gives improved load distribution when using several stud type track rollers and also allows preloaded linear systems to be easily realised.
The highest point of the eccentric collar is indicated on the roller stud side, the eccentricity e is stated in the dimension tables. This is also the location of the radial relubrication holes which should lie in the unloaded zone of the rolling contact.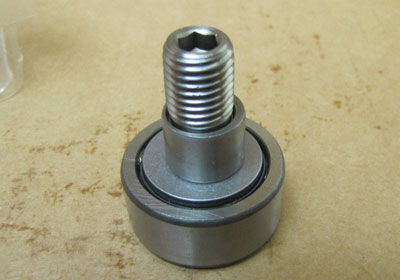 With cage or full complement cylindrical roller set
INA KRE..-PP has a cage, NUKRE and PWKRE..-2RS have a full complement cylindrical roller set.
INA bearings without a cage have the largest possible number of rolling elements and therefore have particularly high load carrying capacity. Due to the kinematic conditions, however, the speeds achievable with these bearings are somewhat lower than those achievable with the cage-guided stud type track rollers.
Axial guidance of outer ring
In the series KRE..-PP, axial guidance is provided by the contact rib and contact washers. The outer rings of series NUKRE and PWKRE..-2RS are axially guided by the rolling elements and ribs.
Sealing
INA stud type track rollers are sealed on both sides. KRE..-PP has a three-stage seal comprising plastic axial plain washers with formed lips on both sides of the bearing, NUKRE has labyrinth seals and PWKRE..-2RS has protected lip seals.
Lubrication
The INA bearings are greased using a lithium complex soap grease to GA08 and can be lubricated via the roller stud. Relubrication can be carried out using Arcanol LOAD150.
related articles
Related numbers
Related products