Assembly examples utilizing NSK full-complement cylindrical roller bearings are shown below. Both NSK bearings have rotating outer rings; and outer ring is fitted into the housing by interference, and the inner ring fitted on the shaft with slight clearance. The inner ring is secured with an end-plate. A lubrication hole is provided on the shaft for grease replenishment using a grease gun.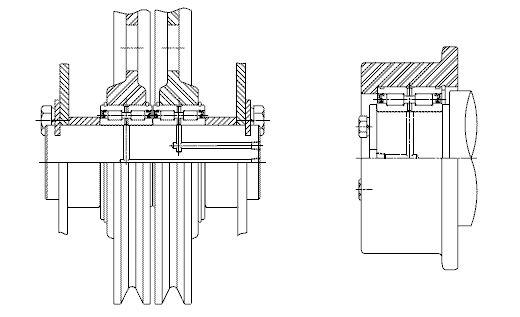 Recommended fitting and bearing internal clearance
When a crane sheave or wagon wheel is used with an outer ring rotating load, bearing fitting and radial internal clearance are as follows:
Load conditions
Tolearance range class of shaft
Tolerance range class of housing
Recommended internal clearance
Outer ring rotating
Heavy load with thin housing
g6 or h6
P7
C3
Normal load or heavy load
g6 or h6
N7
C3
Light load or fluctuating load
g6 or h6
M7
CN
Handing precautions: Be sure to push on the end face of the outer ring when mounting the NSK bearing into a sheave. When mounting the NSK bearing on a shaft, push on the end face of the inner ring.
---