Pillow block bearings, flange bearing units, and take-up bearings units all consist of a housing with a bearing mounted in it. The outer surface of the bearing and the internal surface of the housing are spherical, so that the unit is self-aligning. They are available in a variety of materials, mounting configurations and various bearing features. Each mounted unit, including a mounted bearing, acts as a system to position the bearing securely for reliable operation.
Read more about each type of pillow block bearing as below.
Pillow Blocks
Pillow blocks with bearings mounted in rigid housings of simple construction are the most common bearing units. They are extensively used for various kinds of transmission equipment and machinery.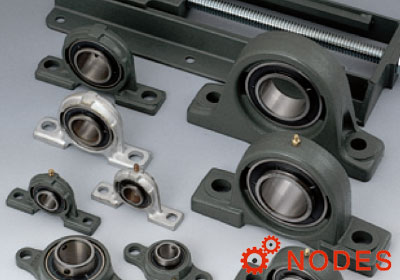 4 bolt flanged bearing units, Square Flanged Units
These bearing housings have square flange which can be easily attached to a machine with four bolts.
2 bolt flanged bearing, Oval Flanged Units
These bearing housings have oval flanges which can be easily installed onto a machine with two bolts. This type of bearing unit is suitable where mounting space is limited or where it is necessary to minimize the distance between shafts.
Nodes bearings supplies different types and brand of ball bearing units. Brand: FYH, ASAHI, SKF, NSK, INA, TIMKEN
All bearing units
Pillow block bearings
2 bolt flange bearings
3 bolt flange bearings
4 bolt flange bearings
Take up bearings
Insert bearings
Bearing units articles
Bearing unit products
Bearing unit numbers