INA Stud type track roller PWKR comprise thick-walled outer rings with a profiled lateral surface, solid section roller studs with a fixing thread, axial washers and full complement cylindrical roller sets.
They can support high radial loads as well as axial loads arising from slight misalignment and skewed running.
In most cases, INA stud type track rollers with a crowned lateral surface are used since they are often inclined in relation to the mating track and edge stresses must be avoided.
In series PWKR, the lateral surface has the optimised INA profile.
INA stud type track rollers are sealed on both sides by protected lip seals.
They are greased using a lithium complex soap grease to GA08 and can be lubricated via the roller stud. For relubrication, Arcanol LOAD150 is suitable.
INA Stud type track roller PWKR are suitable for temperatures from –30 °C to +120 °C.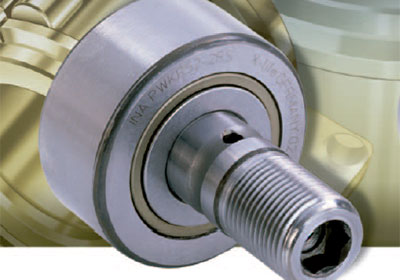 Full complement cylindrical roller set, with central rib
Protected lip seals
related articles
Related numbers
Related products