INA stud type track rollers without an eccentric collar do not have a defined adjustment facility in relation to the mating track on the adjacent construction.
INA stud type track rollers with cage, with full complement needle roller or cylindrical roller set
INA KR, KR..-PP have a cage, while the design KRV..-PP has a full complement needle roller set. The series NUKR and PWKR..-2RS have a full complement cylindrical roller set.
INA stud type track rollers without a cage have the largest possible number of rolling elements and therefore have particularly high load carrying capacity. Due to the kinematic conditions, however, the speeds achievable with these INA bearings are somewhat lower than those achievable with the cage-guided stud type track rollers.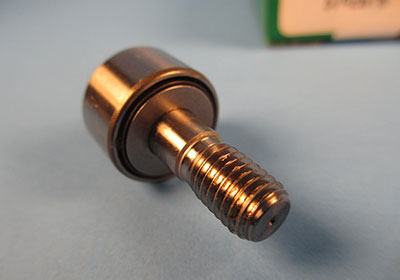 Axial guidance of outer ring
In KR, KR..-PP and KRV..-PP, axial guidance is provided by the contact flange and contact washers.
The outer rings of series NUKR and PWKR..-2RS are guided by the rolling elements and ribs.
Anti-corrosion protection
PWKR..-2RS-RR are protected against corrosion by the special coating Corrotect®.
Sealing
INA Stud type track rollers are sealed on both sides. Series KR has gap seals, KR..-PP has a three-stage seal comprising plastic axial plain washers with formed seal lips on both sides of the bearing, NUKR has labyrinth seals and PWKR..-2RS has protected lip seals.
Lubrication
The INA bearings are greased using a lithium complex soap grease to GA08 and can be lubricated via the roller stud. Relubrication can be carried out using Arcanol LOAD150.
related articles
Related numbers
Related products