As INA bearing distributor, Nodes bearings have INA needle roller bearings with the suffix D in stock, including NK14/16-D-XL, NK20/16-D-XL, NK28/20-D-XL, NK37/20-D-XL, NK55/25-D-XL.
INA needle roller bearings with the suffix D have a steel cage that is profiled and has been produced using improved forming technology. The cage is designed such that the bearing can accommodate a larger number of needle rollers of greater length while the bearing dimensions remain unchanged.
Due to the larger number of rolling elements and the increase in their load-bearing length, the basic load ratings are increased by up to 25%. As a result, the bearings can support significantly higher loads within the same design envelope.
These INA needle roller bearings open up possibilities for designing machines and subassemblies that require less space but have the same performance level.
The needle roller bearings of improved design offer several advantages:
downsizing through increased performance density
better utilisation of the design envelope
reduced frictional torque due to an improved bearing position
high load carrying capacity
lower mass.
Suffix
D: Bearing with improved steel cage for downsizing option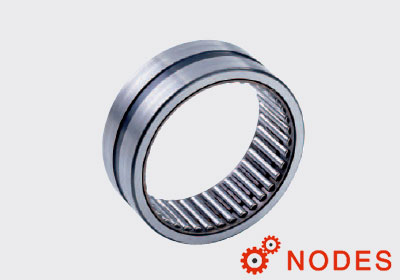 INA needle roller bearings with the suffix D
related articles
Related numbers
Related products