INA Needle roller/angular contact ball bearings NKIA and NKIB have an inner ring. Series NKIA corresponds to DIN 5 429-2. It can support axial loads from one direction.
INA combined needle bearings NKIB has one narrow inner ring and one wide inner ring. The axial bearing component has a plastic ball cage. At the point where the inner rings join, there is a shoulder on both sides for guidance of the ball and cage assembly. As a result, these bearings are also suitable for supporting axial forces alternating in direction. The bearings guide the shaft with an axial clearance of 0,08 mm to 0,25 mm.
NKIA and NKIB can be lubricated with grease or oil. For lubrication, the outer ring has a lubrication groove and lubrication hole.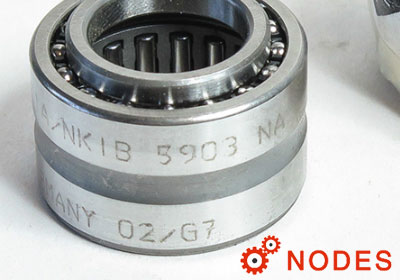 Series: NKIB
INA Needle roller/angular contact ball bearings
Related numbers
Related products