SKF needle roller bearings with flanges on the outer ring and with an outside diameter up to and including 17 mm (Fw ≤ 10 mm), are manufactured with inserted closure rings. These bearings do not have a lubrication hole or an annular groove. Larger bearings have integral flanges on the outer ring, an annular groove and, depending on the bearing size, one or more lubrication holes in the outer ring. Needle roller bearings with flanges are generally designed as single row bearings. Bearings in the RNA 69 and NA 69 series, with an outside diameter D ≥ 52 mm, have two needle roller and cage assemblies. The outer ring and cage assembly of a needle roller bearing with flanges form a non-separable unit.
Sealed bearings
Single row bearings, in the RNA 49 and NA 49 series, are also available with a contact seal on one or both sides. The seals are made of acrylonitrile-butadiene rubber (NBR) that efficiently protects the bearing against the entry of contaminants and retains the lubricant in the bearing.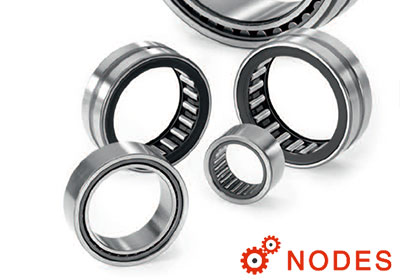 The operating temperature range for sealed needle roller bearings with machined rings, which is limited by the seal material and the grease fill, is –20 °C to +100 °C.
The inner ring of SKF sealed bearings is 1 mm wider than the outer ring. This maintains the efficiency of the seals even when a small amount of axial displacement occurs.
Initial grease fill and relubrication
Sealed needle roller bearings with machined rings are filled at the factory with a high-quality grease with good rust inhibiting properties. Because these bearings can hold a relatively large quantity of grease, they can be operated for long periods before relubrication is required. The lubrication groove and lubrication hole in the outer ring enable the lubricant to reach the bearing cavity during relubrication. The inner ring is also provided with a lubrication hole so that the bearing can be relubricated either via the outer or inner ring, depending on the application. SKF recommends SKF LGWA 2 grease for relubrication.
related articles
Related numbers
Related products