As KAYDON bearing distributor, Nodes bearings have KAYDON Endurakote-plated bearings in stock, including NAA, NA, NB, NC, ND, NF, NG series. Welcome enquiry.
KAYDON proprietary Endurakote® hard chromium plating provides substantial life improvements to thin section and slewing ring bearings in hostile environments. Endurakote® withstands extremely high temperatures and won't flake, peel, or separate, even under the high contact stresses experienced in bearing paths.
Kaydon Endurakote® is applied over conventional bearing materials and to each entire bearing race ring—including the paths—leaving no area exposed. (Other commercial chrome or cadmium coatings can't withstand the rolling contact stress, and therefore can't be applied to the path.) Endurakote® is electrodeposited by a proprietary process that achieves a true molecular bond.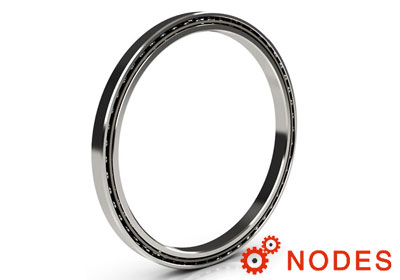 AISI 52100 stock bearings coated with Endurakote® have the corrosion resistance of AISI 440C stainless steel, and have been proven in critical military, aerospace, and deep space applications. In addition to real-world applications, salt spray resistance testing has also proven the benefits of Endurakote®:
KAYDON bearings with Endurakote® plating withstand corrosion as well as or better than AISI 440C stainless steel
The hard, dense exterior surface is extremely wear resistant and helps retain the lubricant film
The extremely hard surface protects the bearing from surface-generated damage which can promote premature failure
Conventional life testing of AISI 52100 steel bearings with Endurakote® plating shows no negative effects on expected life rating
Since the coating is capable of withstanding extremely high temperatures, bearing performance is limited only by the bearing materials or lubricant used
Endurakote® allows designers to take advantage of the cost savings of specifying stock bearings instead of more exotic materials. The coating can be applied to any type of bearing and to most bearing materials, including most ferrous and nonferrous metal. This is particularly beneficial for larger diameter bearings or where quick delivery is critical.
Endurakote® plating is effective in increasing wear resistance in sliding surface contacts. The micro-surface composition of Endurakote® plating aids in lubricant dispersion, enhancing base metals by reducing or eliminating galling, seizing, and high friction, over a wide range of installations and environments.
Endurakote® plating creates a buildup of less than 0.0002" under normal circumstances, and is compatible with most ferrous and nonferrous metal, allowing maximum flexibility in the selection of base material. Endurakote® plating is normally a final process, and its quality is constant with any given base metal, ensuring design reproducibility.
related articles
Related products