As IKO bearing distributor, Nodes bearings have IKO shell needle roller bearings in stock, including TA..Z, BA..Z, BHA..Z, TAM, BAM, BHAM, YT, YB, YBH, TLA..Z, TLAM, YTL, TLA..UU.
IKO shell Type Needle Roller Bearings are lightweight bearings with large load ratings. They employ a shell type outer ring made from a thin special-steel plate which is accurately drawn, carburized and quenched, thus providing the lowest sectional height among the needle roller bearings.
There are two types of bearings available in this series; the caged type and the full complement type. The appropriate type can be selected according to the operating conditions. The caged type has a structure in which the needle rollers are accurately guided by the cage and thrust rings. It is useful for applications at high-speed rotation. The full complement type needle roller bearing, on the other hand, is suitable for heavy-load applications at low-speed rotation.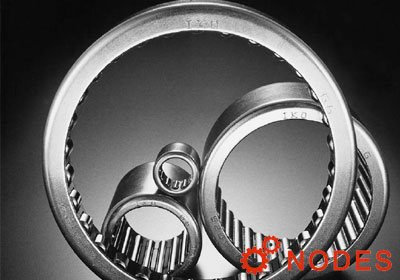 Since these IKO needle roller bearings are press-fitted into the housing, no fixtures for axial positioning are needed. They are ideal for use in mass-produced articles that require economy, and have a wide variety of applications.
IKO Shell Type Caged Needle Roller Bearings
Standard type
This type has a narrow gap between the bore of the marked-side flange of the outer ring (brand, bearing number, etc. are marked) and the shaft, which prevents grease leaks and the entry of foreign particles. This type has wide applications.
Closed end type
This type is completely closed on one side of the outer ring, and is ideal for use when perfect closing of shaft ends is desired.
The shape of the closed end surface of the outer ring is divided into two types, and the dimensions t 1 and t 2 in the illustrations shown in the dimension tables apply to the bearings with the roller set bore diameters.
Type with seals at both sides
This type has a wider outer ring than the standard type and is installed with seals consisting of a reinforcing ring and special synthetic rubber to prevent grease leaks and the entry of foreign articles.
IKO Shell Type Grease Retained Full Complement Needle Roller Bearings
This type has full complement rollers which extend to the full width of the outer ring raceway. It can, therefore, withstand heavy bearing loads and is most suitable for low and medium rotational speeds as well as rocking motions. As lubricating grease is prepacked with the rollers, the bearing can be operated immediately after being fitted.
related articles
Related products