Nodes bearings, IKO needle roller bearings wholesaler, have a wide range of IKO bearings in stock.
This type of IKO needle roller bearings combines a collared outer ring with the 's unique lightweight rigid cage and needle rollers. During operation, needle rollers are guided precisely by the cage, and an ideal load distribution is obtained.
The metric series consists of the NA48 and NA49 series of ISO Standard, NA69 and TAFI series which are based on the international dimension series, and the heavy duty TRI series which is widely used in Japan. The TAFI series has a sectional height as low as that of the shell type and is used for light loads. The inch series or BRI series is based on the specifications of ANSI Standard of USA.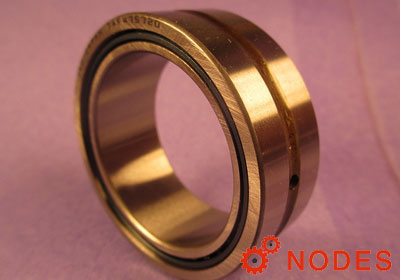 Caged IKO Needle Roller Bearings without Inner Ring
These IKO bearings are free from the effects on dimensional accuracy caused by assembling an inner ring, so that the rotational accuracy is improved. Also, the shaft rigidity can be improved as the shaft diameter can be increased by an amount corresponding to the inner ring thickness.
Caged IKO Needle Roller Bearings with Inner Ring
This type of IKO bearing is used when the shaft cannot be heat-treated and finished by grinding. The outer and inner rings are separable and a small relief clearance is provided on both sides of the inner ring raceway to facilitate bearing mounting. In the TRI and BRI series, the width of the inner ring is larger than that of the outer ring.
Due to heat expansion during operation or mounting errors, the inner or outer ring may be shifted axially and the whole length of the rollers may not be in contact with the raceway. Therefore, attention should be paid to the allowable axial shift S as shown in the IKO bearings dimensions.
IKO Needle Roller Bearings with Seal
These IKO bearings are sealed types of the NA49, NA69 and BRI series bearings, in which a seal is installed on one side (type with one seal) or both sides (type with two seals) of the bearing. The seal is made of special synthetic rubber and effectively prevents dust penetration and grease leakage.
related articles
Related numbers
Related products