INA Axial/radial bearings with an incremental angular measuring system and pitch-coded reference marks comprise an axial/radial bearing YRTCM or YRTSM, each with a dimensional scale, an SRM electronic measuring system and signal leads SRMC. The electronic measuring system SRM comprises two measuring heads, two stacks of shims and an electronic evaluation system. The signal leads for connecting the measuring heads to the electronic evaluation system can be ordered individually in various designs.
Equivalent in mechanical terms to series YRT and YRTS
Bearings of series YRTM or YRTSM correspond in mechanical terms to axial/radial bearings YRT or YRTS, but are additionally fitted with a magnetic dimensional scale. The measuring system can measure angles to an accuracy of a few angular seconds by non-contact, magneto-resistive means.
Axial/radial bearing with incremental angular measuring system
1, Measuring heads with shims
2, Connection cable SRMC
3, Electronic evaluation system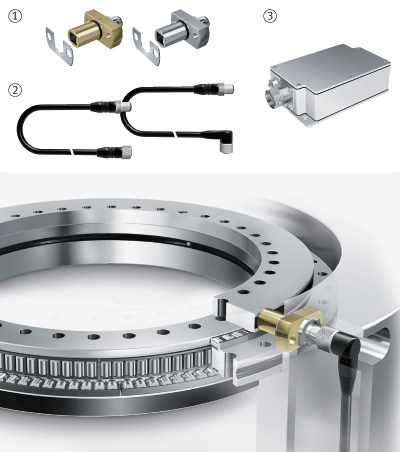 The measuring system:
allows, due to the rigid connection to the adjacent construction, very good control characteristics (control stability and dynamics) and is therefore particularly suitable for axes with torque motor drive
offers a high maximum measuring speed of up to 16,5 m/s
operates by non-contact means and is therefore not subject to wear
carries out measurement irrespective of tilting and position
has automatically self-adjusting electronics
has a self-centring function
is unaffected by lubricants
is easy to fit, the measuring heads are easily adjustable, there is no need for alignment of the bearing and a separate measuring system
requires no additional parts

the dimensional scale and measuring heads are integrated in the bearings and adjacent constructionrespectively
the resulting space saved can be used for the machining area of the machine

does not give any problems relating to supply cables. The cables can be laid within the adjacent construction directly through the large bearing bore
gives savings on components, overall design envelope and costs due to the compact, integrated design requiring fewer components.
Related products