INA crossed roller bearings SX are bearings for high precision applications, whose main dimensions correspond to the ISO dimension series 18 with very small section height in accordance with DIN 616. They comprise outer rings, inner rings, rolling elements and plastic spacers. The outer ring is split in the circumferential direction and is held together by three sheet metal retaining rings. The cylindrical rollers correspond to DIN 5402 and are in an X arrangement with each other on the raceways. The bearings are very rigid, have high running accuracy and are supplied with normal clearance, low clearance or preload. Bearings with preload have the suffix VSP, while bearings with low clearance have the suffix RL0. The bearing outer rings are easily fixed to the adjacent construction using clamping rings.
For applications requiring high corrosion protection, the INA bearings are also available in a corrosion-resistant design with the special coating Corrotect.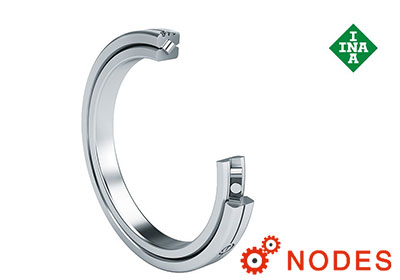 INA Crossed roller bearing SX
1, Split outer ring
2, Sheet metal retaining ring
3, Lubrication hole (3 lubrication holes distributed over the circumference)
4, Plastic spacers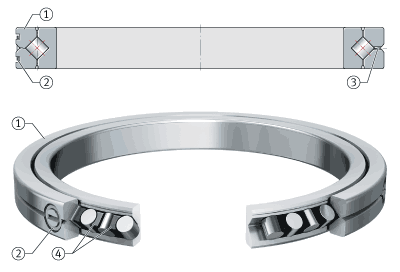 The possible circumferential velocity is dependent on the bearing (normal clearance or preloaded) and on the lubrication (grease or oil)
Permissible circumferential velocities
| Normal clearance | Preload | Circumferential velocity |
| --- | --- | --- |
| Oil lubrication | - | up to 8 m/s (n · DM = 152 800) |
| Grease lubrication | - | up to 4 m/s (n · DM = 76 400) |
| - | Oil lubrication | up to 4 m/s (n · DM = 76 400) |
| - | Grease lubrication | up to 2 m/s (n · DM = 38 200) |
Sealing
Crossed roller bearings SX are not sealed. As a result, sealingof the bearing position must be carried out in the adjacent construction. This must reliably prevent:
moisture and contaminants from entering the bearing
the egress of lubricant from the bearing.
related articles
Related numbers
Related products